Some die-hard golfers are using the British Open in Scotland as their excuse to be away this weekend, but whether you're interested in golf or not, you're going to get a kick out of this tournament: the 12th Annual Self-Invitational Black Rock Desert Classic. Anyone can participate. You just have to be willing to make the two hour drive north of Reno and dish out a $50 entry fee. It is, no doubt, one of the most unusual golf experiences in the world. Hal Canon and Teresa Jordan of The Open Road are our guides.
Desert Green
by Hal Cannon and Teresa Jordan of the Open Road

Teresa: To understand this golf tournament, you have to understand this place. Hal and I have turned off a dirt road and we're driving across the playa of the Black Rock Desert, a dry lakebed that stretches across hundreds of square miles, an endless expanse of shimmering white clay, so bright it blinds us.
Hal: "Wait! There's something painted. We'd better check this out."
Teresa: We get out of the truck, and Doug Keister, a professional photographer from San Francisco who founded this event a dozen years ago, comes up to say hello. He loves to see people react to the Black Rock Desert for the first time. We're dizzy and disoriented, and he tells us why.
Doug: "This is weird! Somebody just needs to visualize getting on a bicycle and closing their eyes and pedaling without ever running into anything. This is absolutely flat."
Teresa: We approach a group of people carrying hand sprayers. They could be spraying weeds, but there are no weeds. There's not a blade of ANYTHING out here. Instead, they are spraying paint, bright color on the bare white ground.
Laura: "It's just an eyeball, and it's going to be one of the greens. We're going to do the veins and everything..the red veins. And then maybe some crazy streaks coming out of it..we're not really sure yet." [Painting sound]
Hal: Laura, Doug's stepdaughter, has just finished finals at UCLA. She and about a dozen others are painting a biodegradable golf course on the playa. These are not your ordinary greens. In fact, none of them are green at all. This is a grass-free course with an attitude, where holes with names like The Vortex and Freeway are more like stage sets than carpets of well-mannered grass.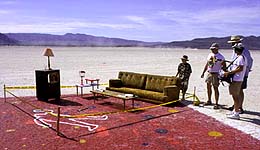 Doug: "Richard Brown has brought in a sofa and a coffee table and a television and it's all sitting on this painted rug out in the desert."

Hal: "The most burning question is just one word: why?"

Doug: "Part of it is performance art, and part of it is ' a number of years ago, I got into recovery from alcohol and drugs. And I wanted to give the people who helped me get clean and sober an experience that they can't get anywhere else."
Hal: It's late afternoon now, and as friends and family put the finishing touches on the course, the other competitors begin to arrive in time for putting and long-ball contests, and a ball game played on the 'If you paint it, they will come' softball diamond. At night, we build a bonfire and ooooh and ahhh while fireworks explode in Nevada's pitch black sky.
[Sound of firework whizzing, popping, sprinkling, crowd cheering]

[Sound of golf swing]
Hal: It's tournament day, early in the morning, and the field of 56 players gets ready to tee off into the empty vastness. The sky is blue, the desert white, a landscape from the set for Lawrence of Arabia instead of the dewey green we usually associate with this game. One man rides by on a bicycle, towing a golf cart behind him, and disappears in the distance.
[Sound of golf cart passing by]
Hal: As we approach a tee box, we hear a mixture of accents. It's a foursome of strangers just thrown together for the competition.
Hal: "Where are you all from?"

First Man: "Originally, Manchester, England."

Second Man: "Connecticut."

Third Man: "Yugoslavia."

Fourth Man: "Bosnia."

All: "Wow, we really are international!"

Hal: "So what's the difference between this and the British Open?"

First Man: "The difference is that at the British Open..great fairways...great rough. Here it's like playing on the moon."

Tee-Off: "Alright. Way to go Phillip. We're off."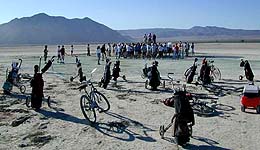 Teresa: We join another foursome about to play the par-six Hell Hole. The green is an incredible 700 yards away, and at first we can't even see the flag. But teeing off is easy. The hard part begins when we reach the green -- which, in this case, is orange, a round smiley face with horns. The playa clay is a spider web of cracks and this spot is particularly rough. Even to putt, you have to tee up your ball. As if that's not challenge enough, the wind has come up.
Teresa: "Now Dave is lining up..."

[Sound of putt]

Dave: "I like it I like it! Break left. Come on wind!"

Teresa: "It's so close..only three inches from the hole."

Dave: "Oooh. A birdie."

Teresa: "If you were to coach somebody who was new--"

Dave: "I would say bring a good golf swing and a bag of luck with ya." [Big laugh]
Teresa: During the six hours of tournament play, the temperature rises to 90 degrees, and the wind kicks into a dusty howl. By the time folks hand in their score cards, they are hot and bedraggled, but virtually everyone is laughing, giddy with this gift of serious golf on a goofy course, grateful for the chance to play like kids in a world with no boundaries. The winners are announced, but in the end it is Doug Keister who gets the most enthusiastic applause.
Crowd: "Thank you, Doug!" [Big applause]
Teresa: Driving the distance on The Open Road, I'm Teresa Jordan with Hal Cannon for the Savvy Traveler.
Savvy Resources for the Game of Golf

Want to know more about wacky places in the world to tee off? Check out Offbeat Golf : A Swingin' Guide to a Worldwide Obsession.
Historians believe the coastal areas of eastern Scotland carved out the world's first greens. And now you can stroll the fairways from Iceland to Sri Lanka. There are ten courses in Tunisia, two new ones in Turkey, and one in India, where they've been teeing off for over 100 years. There's also one in China where you can see the Great Wall from the first tee. Remember though, it's a short season in Iceland, May to September, so pack yer golf sweater now. The puffins are waiting for you to play through.
The critters are a little less friendly in Australia, though...it seems that crocodiles have claimed the waterholes of the Sheraton Mirage golf course in North Queensland. No one's been attacked but we don't recommend going after any waterborne balls.
And while you're playing your way across the world, did you know there's a golf club called "The Baffy" for getting you through the rough, and a slightly shorter club called "The Brassie." There should be a club called "The Savvy" dont'cha think? To help you, I don't know--travel the course further?
Doug Keister's web site has many whimsical pictures of the Black Rock Desert: http://www.keisterphoto.com/