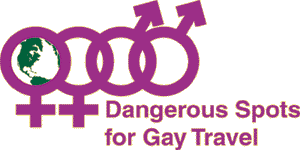 Dangerous Spots for Gay Travel
An Interview with David Kirby

David Kirby is a freelance writer who wrote the cover story for this edition of The Advocate. He mentions Puerta Vallarta and Jamaica as other potentially dangerous places Jamaica isn't the best place for any traveler to be right now but, it seems, it's especially dangerous for gay travelers.
Kirby: "In Jamaica there have been several reports of anti-gay ... will not rent rooms to same-sex couples if there is one bed in the room."
David says that gay travelers should also be wary in a lot of the Islamic world and parts of Africa and Asia, like China and Singapore. And there's a few other countries that may come as a surprise.
Kirby: "Even in parts of Europe ... of course that can happen in the United States as well."
David says the difference is that even in the most conservative places in the U.S., the police are ostensibly there to protect you. But in some other parts of the world, they might not feel obligated to do that. So, as a gay traveler, should you play it safe and, say, ask for a room with two beds when traveling with a significant other?
Kirby: "Well, that brings up an interesting point ... don't feel as strongly about that and want to be a bit more cautious ... and deliberately hold hands just to make the point."
So as with any kind of travel, the best advice is "trust your instincts." By the way, it's not all bad news in the Advocate's travel edition. It reports that countries like Great Britain and France are working harder than ever to attract more gays, as are longtime favorites such as Provincetown, Massachusetts, which draws loyal visitors year after year.
Savvy resources for gays traveling abroad
International Gay and Lesbian Association, www.igla.org country by country survery of destinations for gay people around the world and they break it down in categories such as discrimination and legal protection and things like street violence and police harrassment that could put gay tourists at risk.

The Advocate list of sites that give cause for concern.

The travel section on gay.com