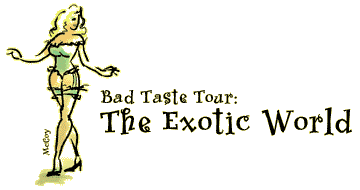 Cash Peters is our official guide to the worst, the tackiest, the most offensive tours, museums and monuments in the world. And I'm sure today's journey fits into one of those categories. Ladies and gentlemen, prepare youselves for another Bad Taste Tour.
Bad Taste Tour: The Exotic World
by Cash Peters

Hey, d'you wanna meet one of the most fascinating women on the planet? If so, let me introduce you to ex-stripper-turned-museum-curator Dixie Evans.
Dixie: "I was in burlesque. I was known as the Marilyn Monroe of burlesque, because [with Marilyn accent] I used to walk and talk and take everything off the way Marilyn would do it."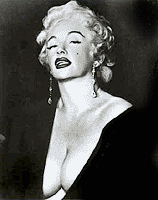 Dixie Evans
And she looks just like her, too. It's uncanny. Anyway, "The Exotic World" stripper museum is conveniently located way out in the middle of nowhere, in the desert between L.A. and Las Vegas. Basically, keep going 'til you reach the back of beyond, then, when you're convinced you're lost and you're going to die, it's about five miles after that. Four rooms filled with pictures, costumes, and mementos remembering the glorious days of burlesque.
Dixie: "The museum represents a world before TV. Once a year the big show would come to town--St Louis or wherever--and it was a treat."

Cash: "But now it's considered tame, right?"

Dixie: "It's tame. Now it's everywhere, it's all over the place, it's not the same."

Commentator on video: "After World War I moral standards relaxed. In the city women went without their corsets and on stage in the Paris music halls they unveiled their breasts."
Oooh--it was all so naughty. Don't forget, this was an age when taking off your sweater on a hot day was considered a little racy. Burlesque, though, or those who don't know, was a live stage-show: a mix of comedy and dance and, well, stripping. To be a burlesque star you had to have one of two things: either a catchy name, such as
Dixie: "Cupcakes Cassidy, Marsha Mallow the Toast of the Town, Candy Barr, Candy Cane--if you didn't have a tremendous gimmick you had to have a great name to bring them in. We had Gale Winds, the Texas Twister"
Enough with the catchy names already. But it was either that, or you had to look like someone more famous than you were.
Dixie: "We had the Loretta Young of burlesque, we had the Jackie Onassis of burlesque. We had the Lauren Bacall of burlesque."

Cash: "That is Lauren Bacall. You stuck her head on a naked body."

Dixie: "No, it's a girl who looked like her."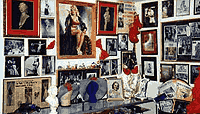 Exhibits at Exotic World
Well, speaking as the Ava Gardner of radio journalism, I can tell you it was all too much for me. Each year Dixie hosts the Miss Exotic World Contest in which some of the old strippers -- I mean, some of them are in their seventies -- get together and strip all over again. Yikes. I saw a video and, well, imagine the Pillsbury Doughboy in a bikini and you get the idea. But would Dixie herself strip professionally now if she could?
Dixie: [Laughs] "No, I wouldn't do it now."

Cash: "For five million dollars?"

Dixie: "Actually I'd take a million. At this age I don't know who'd pay that much, though." '

Cash: "I'd empty my pockets to see it."

Dixie: [Laughs] "I'm flattered and honored."

Commentator on video: "Joanne Elizewith a touch of showmanship and a lot of female flesh, Flo Ziegfeld and the Minsky Brothers were to make burlesque the most popular entertainment in the U.S."
Anyway, Dixie is a wonderful woman. If you visit her museum, she'll do a complete singing, dancing tour for you. Myself, I decided to skip it and go for the highlights, beginning with a shiny brass jar in the corner
Dixie: "This is a girl's ashes."

Cash: "You have a stripper's ashes?"

Dixie: "Yes, Sherry Champagne. Everything she does is in a champagne glass. Everything had to have a champagne glass. All of her gowns would have to have a champagne glass."

Cash: "So why is she in an urn?"

Dixie: "Because she passed away."

Cash: "The least you could do is put her in a champagne glass."

Dixie: "Well, I should, yes."

Dixie: "This is Marilyn Monroe's two-piece dress."

Cash: "Her actual dress?"

Dixie: "Yes."

Cash: "Look at me now, I'm running my fingers up and down it."

Dixie: "Yes."

Cash: "And Marilyn Monroe wore this?"

Dixie: "Yes she did."

Cash: [Muffled] "Look at me now, I'm rubbing my face in it."

Dixie: "Oooh, wow. Yes."
When you've finished going ooh and aah and touching the rhinestone g-strings and asking questions, there's a gift shop where you can buy fridge magnets and videos called "Stripping with Steph" and "Jump With Glee in '93." It's totally bizarre. I have no idea what the average Joe would think of this place, so I took one with me. My friend Gibby.
Gibby: "It's really fascinating. I had no idea."

Cash: "You thought this was going to be tacky and seedy."

Gibby: "Well, there's parts of it that are, but it's also really fascinating. I don't know if you noticed in the other room, they had a wall of strippers with Bill Clinton in the middle. It's like, he just belongs here with these strippers."

Dixie singing as Marilyn: "Happy birthday to you, happy birthday to you, happy birthday, Mr. President, happy birthday to you."

Cash: "Get that million dollars from the trunk. I wanna see this woman strip off." [Laugh]
Hey, just kidding, alright? In the middle of nowhere, Nevada, I'm Cash Peters for The Savvy Traveler.
Savvy Resources for the Exotic World
Interested in exploring the burlesque scene from days gone by? Thinking about attending the Year 2000 Striptease Reunion/Miss Exotic World Pageant? Get in touch with Dixie Evans at the Exotic World Burlesque Museum:
Exotic World
29053 Wild Road
Helendale, CA 92342
(760)243-5261
Open Daily 10am-4pm
Want to catch a glimpse the Exotic World? Take these virtual tours of the museum and the "Miss Exotic World" Pageant: