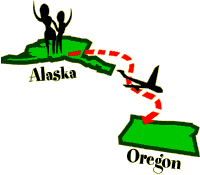 A couple of months ago we put out the word that we were in the market for a Savvy Traveler Summer Correspondent. We won't all be able to hit the road this summer, so we figured, why not tag along with someone who's going to have a great adventure. Well, the letters and tapes poured in, and it was a very tough call, but we finally settled on a couple of people who's stories really intrigued us.
The first came to us from a woman named Randi Somers. Randi lives in Homer, Alaska, but she's ready to leave the Great White North for awhile and see the rest of the country. She's taking along her 11-year-old grandson, Jesse, and Randi says this will be Jessie's " first look at America and [her] last... at least in this century." They're planning on buying a mini-van and hitting the road in the next few days.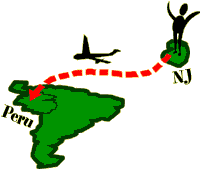 Then there's Al Stern. Al's a 29-year-old art director from Nutley, New Jersey. He's got a steady job and a solid life but he's giving it all up to move to Iquitos, Peru, in the rain forest. Al was actually in Peru once before but apparantly two weeks just wasn't enough, so he's going back to live and work and paint for about three months.
Randi, Jesse, and Al are busy preparing for their trips, but they're taking a few minutes out of their packing time so we can get to know them a little bit before we start traveling with them. For Al, this is a huge change in lifestyle. Find out what prompted this adventure.