Some of the most legendary trout fishing in America surrounds our oldest national park, Yellowstone. After hanging a "Gone Fishin'" sign on his office door, Hal Cannon headed for Montana on the Open Road to try his luck on the first weekend of fly fishing season.
Gone Fishin'
by Hal Cannon for the Open Road

I love to fish. Done it all my life. Something almost hormonal about springtime and fishin'. It's early morning and I'm headed out from West Yellowstone with one of thee great fly fishermen and guides, Bob Jacklin.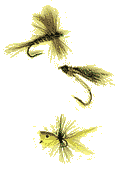 Bob: "I'm kinda excited so I'm gonna fish myself."

Hal: "Oh good!"

Bob: "I'll get you started and I want to try some different things."
Try as I may, what Bob doesn't know is that no matter who I fish with, I put a hex on every fishing trip I've ever been on. Always have. We turn onto the road that runs along the Madison River. Elk, deer and moose graze looking-up with little interest. There's so much wildlife I feel like a trespasser.
Bob: "Look at this buffalo! Just walking along the highway. A little bull...yeah. Wow."
Bob's been helping tourists fish Yellowstone for 30 years. But he's more than a fishing guide. He's an interpreter in the language of wilds. We pull off and descend to the river. Bobs hands me a pair of hip waders and pulls out two rods. He puts on his fishing vest -- a portable workshop -- scissors and pliers hanging off strings and a dozen pockets full of fishing stuff. Then comes the tackle box, layered in hand-tied flies of every imaginable color and size.
Hal: "You've got a thousand flies in there."

Bob: "Probably. I've got flies that I carry in my fly box. I tied those three there when I was in high school."
I realize, for the first time, Bob's fly collection is more than the tools of the trade. It's history. Every fly represents a lifetime of fish stories. And strangely too, it's art, Bob's tribute to God's handiwork in nature.
Bob: "I'm trying the march brown and giving you a little green caddis larva."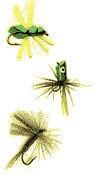 The trick here is to float an artificial fly exactly the way a real one would sweep down the river. Hopefully, the fish grabs for it and the fisherman has a split second to hook the trout before he spits the nasty impersonator out.
I remember as a kid looking through Field and Stream at the dentist's office. I loved those romantic illustrations of the fisherman -- plaid coat, pipe clenched between teeth, reeling in the big one as a grizzly bear paws at the air across the river. Bob must have looked at those same magazines growing up in New Jersey, but he was serious. He made a pact with himself that after the Army he was going to fish Yellowstone.
Bob: "And I get out of the Army July 17 and I fished the rest of the summer in 1967 in Yellowstone. And it was just a whole new experience for a boy who had never seen anything west of the Delaware River -- to drive across the country in a new Volkswagen Bug, paid for, and be able to fish all through Yellowstone. I mean, that's like dying and going heaven, it was just that good."
After that halcyon summer in Bob knew he couldn't go back to the East. So, he moved out to Montana and hooked up with some of the great old-time fly fishermen of Yellowstone.
Bob: "Doin' good Hal...you're workin' that whole run. Nice cast."
He's too kind. My casts are so clumsy. In his hand the rod is a magic wand -- a perfect line setting each fly with total precision. This ancient dance between man and fish is full of tradition, part of some notion we hold that we want connection with nature, with wildness. And to Bob that's what Yellowstone embodies.
Bob: "Okay...nothing. Let me sneak out a little further here."
But the fish are playing hard-to-get this morning. Bob hasn't had a strike, and I've succeeded in hooking everything but a fish.
Hal: "I caught my fly on a willow branch. One of the joys of fishing...untangling yourselves. Now my fly is totally tangled up. Okay. I don't think any sailor would know what that knot is."

Bob: "Here we go. Finally."
Thankfully, Bob's luck has changed.
Bob: "Yeah, it's a whitefish. These whitefish are good fish. Let's get a shot of him, I'm gonna let him go. There he goes. Good! A whitefish!"
After a day fishing people come back to the bar and they're sitting around talking. Have you ever come back with a story that was true that you knew your friends weren't going to believe?
Bob: "I saw a trout come on land for insects on the Firehole River."

Person: "What? He came on land?"

Bob: "Got on land. This is a tall tale, but it's true. And it was about a 12-inch rainbow and he got up into the brush and back in the water. Into the brush back into the water feeding on insects. It happened. I watched it."
As usual, the story's better than reality and besides, we have to get back to town. I make one final useless cast and I can just imagine the fish down there laughing at me. We climb out of the river to the car. But Bob has one last place he wants to show us. It's a spawning ground for brown trout.
Bob: "Look at 'em rising out there. Wouldn't you just love to lay your line out there? It's closed to fishing."

Hal: "Wow, look at 'em jump."

Bob: "That's enough to get a fly fisherman excited."
Bob's excitement is contagious and even though I got skunked, once again, its been fantastic fishing with a man who, like the trout, considers the river his home.
Going native from the Open Road, I'm Hal Cannon for The Savvy Traveler.

On the Web: Fly Fishing at Yellowstone