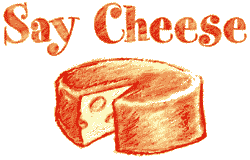 Say Cheese
An interview with Cosimo Cavallaro
Here's a perfect place for cheese-lovers to go -- the Washington Jefferson Hotel in New York. That's where Cosimo Cavallaro cheesed an entire room. He told us he did it to express his joy for life.
The exhibition is in room 114 of the Washington Jefferson Hotel in New York City. Here is contact information in case you want to stop by and see the spectacle for yourself:
Washington Jefferson Hotel
318 W. 51st Street
New York, NY 10019
212-246-7550 or 888-567-7550

This exhibit runs through June 20. For its next exhibit the hotel will host a comic, who will live in room 114 for a month. He promises to tell jokes to anyone who knocks on his door. Pity the poor room service guys...