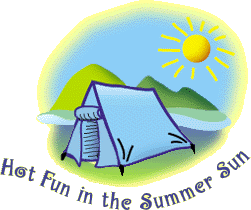 Hot Fun in the Summer Sun
An Interview about Summer Camps
Summer camp is on the minds of kids and parents right about now. For those with school-aged children, finding a camp is the challenge of the moment. Whether it's a sleepover, specialty or day-camp, you've got to do your research to make sure your kids are happy and safe. Then you've got to find a way to pay for the fun -- which can run more than five thousand dollars a summer for overnight camp.
For advice, we've asked Susan Silverstein, the Director of Paradise Farm Camp in Dovington, Pennsylvania to stop by. Her camp is the oldest in the country. It was established in 1875 to bring financially disadvantaged city kids to the country.
Summer Camps On the Web

Interested in finding a camp for your kids this summer? Luckily, the Web is packed with information for you. Below we've compiled a list of camp resources, and while the focus is on kids' camps, some include information on adult camps, family camps, etc. as well. To reach Paradise Farm Camp, send them e-mail at ccwapfc@voicenet.com.