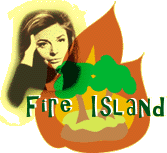 Fire Island
Anne Bancroft's Place of the Heart
Many people dream of fame and fortune, but the down side is that it's often hard to get away...find a quiet place where no one asks for your autograph and you can raise your children safely and quietly. Actress Anne Bancroft has found just such a place.
Now when I think of an Oscar-winning actress traveling....Mrs. Robinson, no less, a woman who was given a personal tour of Israel by Golda Meir...I don't know, I picture St. Tropez, the Ritz in Paris, The Savoy in London. But when I asked Ms. Bancroft where she would choose as her place of the heart, I was very surprised when she said Fire Island, New York.
For those of you who aren't familiar with it, it's a very narrow island located just south of Long Island. And you can only get there by boat...no cars allowed.
Ms. Bancroft graciously invited me to her home, which she shares with her husband Mel Brooks, to talk about the magic of Fire Island. She says she was captivated from the beginning.