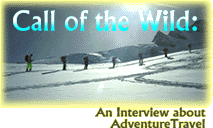 The Call of the Wild
An Interview about Adventure Travel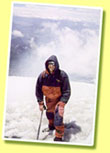 Just last week a man named Pete Athans reached the summit of Mount Everest for the sixth time. That makes him the first non-Sherpa to make it that many times. Athans is one of the lucky ones. More than 150 people have died trying to climb Everest. This week a team of Ukranian climbers chose to push toward the summit through high winds and billowing clouds without oxygen! Two of them had to be rescued and, last we heard, one was missing and presumed dead. I am always amazed when I hear stories like this. I am, what's known in the travel industry as, a soft-adventure traveler...a little white water rafting...an extended bike trip here and there..But I just don't have that desire to climb the world's highest and most dangerous mountains. I don't get a thrill thinking about diving in shark infested waters. What's even more amazing to me is that the number of folks who do want that type of experience is actually growing. I can't but wonder what it is that compels someone to risk his or her life for the sake of adventure. I certainly don't have the answer so I've invited an expert to help me see the light. Jerry Mallet, the president of the Travel Adventure Society, joins us for a look at adventure travel in the 90s.