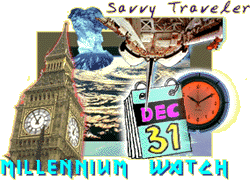 Millennium Watch
May 1, 1999
by Rudy Maxa

From the once-in-a-lifetime department, I give you: the year 2000 and this week's Millennium Watch. The computer world may be calling it Y-2-K, but for travelers, it's more like "Why NOT 2K?" Why not pay 2K, that is -- if not more -- for a flight, a cruise, a nightly hotel room rate ... I mean, when are you going to get another chance to ring in the year 2000? This once-in-a-lifetime- thing seems to be a ticket to splurge, so travel planners are thinking big--HUGE, actually with prices to match. So if you've got a few, thousand extra to spend on the triple-zeros, maybe one of these trips is for you.
Silversea is offering Millennium Cruises that let passengers count-down in Fiji, then sail across the International Date Line, then back to celebrate all over again. You're looking at a starting price of $30,000 per person. If you prefer to celebrate in the skies, you can fly around the world on a chartered Concorde flight. There's a three-week millennium safari, through Africa, for $40,000, or an 18-day Around-the-World trip which includes Sydney, Hong Kong, and Cairo, for $75,000 ... about twice as much as the usual around-the-world package.
Heck, you can break the bank just by staying on the ground. There are luxury manors and even castles available for rent in England, Scotland, and Wales for $23,000 a week. As for hotels, the Ritz-Carlton offers what it oh-so-humbly calls the "Ultimate Experience," reserved for just one couple at each of its properties. Get a load of this: you get the hotel's premier suite, private dining room, 18 karat gold watches, a Jaguar to drive for the weekend, a private 24-hour butler ... the list goes on. How much? How does 100 grand hit you?
And if you want to be the biggest spender, you can just head to that traditional favorite, New York City's Times Square, where you'll find the conveniently named Millennium Broadway Hotel. Take up their offer of renting out the entire place to ring in 2000: three nights, three million bucks.
Hey, once-in-a-lifetime doesn't come cheap.
In our next Millennium Watch, we'll see what's in store for those who want to prolong the magic moment at the International Date Line.