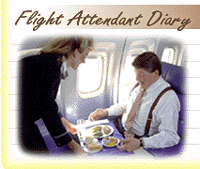 Flight attendants are among the most visible and vulnerable targets in the travel industry...standing there smiling while we grumble about departure delays and cold coffee. It must take an awful lot of patience to handle the job...but is there more to it than that? The Savvy Traveler's Tom Verde tagged along on a routine flight from Dallas to D.C., recently, and has this behind-the-scenes look at the job.
Flight Attendant Diary
by Tom Verde

It's a quarter to seven on a Monday morning here at the Dallas-Fort Worth airport. I'm still trying to wake up, but in the American Airlines operations room, opposite Gate C-17, things are humming.
Thomas: "You come up here to sign into the computer, it's kind of like punching a clock, you have to be here on time. And so now we're going to go down and get my luggage."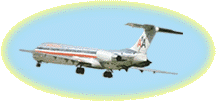 Dallas native Randi Thomas is one of 20,000 American Airlines flight attendants who go through this routine at the start of every shift, a shift that'll keep her away from home for four days. After heading from here to D.C. and back, a round trip of seven hours or so, it's on to Vail, Colorado where she'll do a 24-hour layover, then continue on to San Francisco. From there she'll pull an all-night shift to Miami, where she'll get a 12 hour rest before returning to Dallas.
Thomas: "And I'll be back at DFW 9:27 pm on Thursday evening. That is my week this week."
Blond-haired and blue-eyed, Thomas stands five-foot five in her official American Airlines high-heels. She's been a flight attendant going on twelve years now, after four years as a social worker. She's in the majority as far as gender goes...close to 85 percent of all flight attendants are women, though in recent years more men have joined the ranks. At thirty-eight, she's the average age of today's flight attendants, most of whom are between 30 and 40.
On board, Thomas and the rest of the crew introduce themselves. Because their schedules are rarely the same from week to week, flight attendants often find themselves working with people they've never met before and may never see again.
Thomas: "Okay, before I do anything else, I am going to check my emergency equipment. This is our defibrillator, and this is our enhanced medical kit."
Emergency preparedness is the primary duty of all flight attendants and accounts for the bulk of the six and one half weeks of training flight attendants receive before they earn their wings.
Once safely off the ground, it's time for the in-flight service. Just as flying business class is cushier for passengers, working the high-priced seats is more desirable for the crew, says Thomas.
Thomas: "Once you've been back in coach and you've pushed that cart from row 36 up to row 9, you know, three times a flight, three times a day, you're kind of like, okay, I'd just like to get up in first class, where I can carry a tray out, you know."

Who gets to work first class, and who gets the better flight schedules - meaning no holidays and fewer overnighters - essentially boils down to seniority. Flight attendants typically work three or four days a week, a full time job crammed into a part-time schedule. Salaries, once again, are determined by seniority and can range from as little as $10,000 to as much as $40,000 a year. The benefits aren't bad. In addition to the standard HMOs, etc., flight attendants travel free on their own airlines and get discounts of up to 90 percent with other carriers.
After the meals have been served, it's time for Thomas to clean up a bit, make another pot of coffee or two, and take a few moments to reflect on the job.
Verde: "What made you decide to be a flight attendant? Is this something that you always wanted to do, or did you just kind of fall into it by accident, or...?"
Thomas: "I think that I had thought about it off and on. I did finish college and kind of still had the bug about traveling, and I think that was it, that's what always interested me about the flight attendant job, was the travel aspect, so I thought, I'm gonna try it, and that was twelve years ago."
Verde: "Is it as adventurous, perhaps, as some people might think?"
Thomas: "Maybe not as adventurous as some people might think, but it does offer a lot of opportunity that I would not have had otherwise, or would not have been as feasible otherwise."
Such as travel to Europe and all over the United States on a taxing, but ultimately rewarding, work schedule.
Whereas twenty or thirty years ago being a flight attendant, or stewardess, as they were called, might have been a glamorous vocational pit stop for young single girls, the job is now dominated by working women, many of whom are married, raising families and plan to one day retire from what has become a career.
In Washington, I'm Tom Verde for The Savvy Traveler
For information on becoming an American Airlines Flight Attendant:
Call: 1-800-718-4877
extension 25
or visit the web site at
For more industry information, contact:
The Association of Flight Attendants, AFL-CIO
1625 Massachusetts Ave., NW
Washington, DC 20036

or visit their website at: