When people go traveling across the world, one of the gateways into an exotic culture is through the music of that tradition. The Aboriginal peoples of Australia are perhaps best known through their music. Judith Kampfner found, on a recent visit, that you don't have to leave the shores of Sydney Harbor to find authentic aboriginal sounds. You don't have to go into the desert interior; there is much to hear even in the tourist center of the city.
Didgeridoo: Sound of Australia
by Judith Kampfner
Tourists gather on the steps of the Sydney Opera House. They gaze at the blue of Sydney Harbor, the yellow ferries and the sparkling white tiles on the wave-shaped roof of Australia's best known modern building. Meanwhile, the tourists are entertained by a street musician. Japanese schoolchildren, in neat uniforms, listen politely. The song is "Waltzing Matilda." The bagpipes, which are playing it today, are not exactly what come to mind when we think of Australian music. This is more appropriate.

The Australian Aboriginal instrument, the didgeridoo, is now used in many bands across the world. In a shopping mall on Sydney Harbor is a gallery owned by Alana Rose and her partner Gavin. They are Aboriginals with great pride in their heritage, which they consider to be the oldest living culture in the world.
Alana: "One of the things we do in our center is to make people think, they step into another world, only Aboriginals work here. There are wonderful colors in the art and the haunting sound of the didgeridoo."
A crowd has gathered around owner Gavin Rose playing the tubular instrument which is almost as tall as he is. But his name for it is not how it's come to be known.
Gavin: "Yedaki is our name for this instrument but the Europeans called it the didgeridoo because it imitates the sound."
There's a sign in English and Japanese which explains that the yedaki is meant for a spiritual purpose. It's strictly a men's ceremonial instrument and women customers are asked not to pick them up.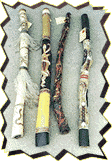 Alana and Gavin: "We ask women customers to respect...women working here don't choose to sell them."
Most of the instruments sell for just over $100. They are, in fact, naturally hollowed out tree trunks. Ever resourceful, Aboriginals put damaged trees to creative use.
Gavin: "Termites eat the sweet wood and hollow out the trees."
The music of the yedaki tells stories and mimics animals. This is the laughing kookaburra bird calling in the bush. In the Aboriginal's totemic belief system, every animal and plant has an important spiritual place. Each has a role and each deserves respect.
In Sydney, Australia, this is Judith Kampfner for the Savvy Traveler.
Didgeridoo and Aboriginal Links
Learn to play at Didgeridoings
Dreamtime Didgeridoos
Indiginous People:Australia