When Tom O'Brien and Melody Walker announced they were going to celebrate their tenth wedding anniversary in Paris, everyone said, "How romantic." But when the couple said they were taking their kids, ages five and seven, along, too, most friends thought they were crazy. The family set off for five days in Paris last Thanksgiving. Melody lived and worked in Paris as a radio reporter for six years before she had kids, and saw the French capital in a whole new light on this visit.
Traveling With Kids in Paris
by Melody Walker
Kyle: "Today we arrived in Paris. We took a taxi to our hotel. There was lots of traffic and it took an hour. When we got to the hotel we took a nap."
That's Kyle, our seven-year-old, who kept a detailed daily journal of our trip to Paris last November. With only five days to see the sights, we spent very little time at our tiny hotel on the Left Bank. We had what's called a chambre famille - a cozy two room suite with kitchenette that I found on the Internet for about $250 a night.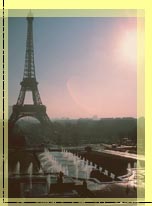 First stop on our itinerary was the Seine River. There's really no better introduction to Paris than a ride on Les Bateaux Mouches - the huge glass-enclosed tourist barges that cruise up and down the river year-round. The views are spectacular and if you go at sunset, as we did, you know why they call it the city of light.
Kyle: "I can see the Eiffel Tower straight ahead of us. It's very big and all lit up."
Blair: "Yeah, lots and lots of lights!"
That's Blair, our five-year-old. She especially liked riding on the upper deck of the boat's bow "Titanic-style" - hair blowing in the wind as we sailed under Paris' bridges and past historic monuments like the Louvre.
Blair: "We have now reached the Eiffel Tower. We see the whole thing. What do you think? This is so exciting!"
From the Eiffel Tower to the Arc de Triomphe to Montmartre, we took the Paris subway, le Metro, everywhere. A three-day unlimited pass, good on subways and buses, cost about $60 for the four of us. One of the best bargains in this very expensive city.
The kids loved the musicians who fill the long hallways, connecting the subway lines with exotic sounds.
Melody: "Ready to go to the Louvre?"

Kids: "Yes!"
Museums and kids don't always mix, but the sheer size of the galleries of the Louvre captured Kyle and Blair's attention.
Kyle: "I saw the Mona Lisa and other pictures, I saw a lot of stuff. It's a good place for kids to come? Yeah, pretty good."
While grown-up travelers may be content to stroll the boulevards of Paris, or sip a glass of wine in a cafe, kids need to climb, jump, and run to get the feel of a new city. We were always on the look-out for a playground where they could release some energy, but they are few and far between in Paris.
Kids: "Mom, Mom, I want to go right here..."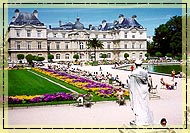 Some French friends tipped us off to a new playground in the Jardin du Luxembourg. Children and adults must pay to enter - it was ten dollars for the whole family - and there were no swings or slides. But lots of things to climb on.
More traditional French amusements, like carousels, pony rides and miniature sailboat rentals, are also available in many public parks.
All that running around can work up an appetite. We knew we wouldn't be eating in four-star gourmet restaurants with the kids, but felt like we were paying four-star prices even at simple cafés and bistros. We spent the equivalent of $50 to $60 every time we sat down to eat. Fortunately for us, and our budget, we all liked the cheap and delicious food from street vendors.
Kids: "I like pizza! I like crepes! I like pain au chocolat, that is a croissant with chocolate inside. I like roasted chestnuts."
On our last day in Paris we climbed to the top of one more famous monument.
Kyle: "Now we're on Notre Dame, on top and - it's a very big view, I can see the Seine River, and I can see the Eiffel Tower."

Blair: "I see lots of gargoyles. One is eating berries. I mean blueberries."
Standing on top of the Cathedral, with our kids pointing to all the places we had been, made our worries that they were too young to appreciate this trip disappear. They're still talking about Paris and can't wait to go back.
Visit Paris Tourism Online