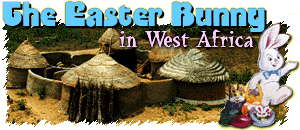 The Easter Bunny in West Africa
by Fritz Burke
Dear Rudy,
The customs official at the airport in Lome, Togo was peering suspiciously into my backpack.
"C'est quoi ça?" he asked, pulling out a chocolate Easter bunny.
"It's a rabbit of chocolate," I explained in my rusty French. "A little gift for my sweetheart, who works with the Peace Corps here in Togo."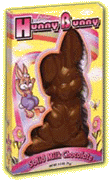 I was heavily burdened with Easter candy. My fiance's father, a forceful New Yorker with his daughter's sweet tooth, stuffed them into my pack when he dropped me off at Kennedy airport. I knew the chocolate wouldn't survive the journey from the capital to my fiance's remote village, but I was already learning to humor my future father-in-law.
The customs official, who apparently had no experience with Easter candy, emptied my pack, arranged the chocolate bunnies and companion ducks and squirrels on a table, and began speaking excitedly to another official across the room. This man soon joined us at our table to make his own inspection.
I wasn't worried. I figured that at the worst (or perhaps the best) they would confiscate the candy. I decided to beat them to it.
"Please accept these rabbits as a gift for your family," I said, handing them two large bunnies with drooping ears.

The Easter goodies were coming in handy after all. In the lush country of the south, I traded chocolate-cream eggs for mangoes and bananas. At military checkpoints, I handed over candied ducks and squirrels. At the food stalls of night bazaars I joined the merchants, weavers, truck drivers, and fix-it men to drink millet beer and chew on licorice. And at bush-taxi stations from the Gulf of Benin to the thirsty Sahel I distributed jelly beans and chocolate raisons to crowds of children. I began to feel that I was on an important, although absurd, quest, an unlikely Easter Bunny, hopping from village to village, bringing the miracle of marshmallow to the poor and malnourished.

They didn't see me as an Easter bunny when, after a fourteen hour journey, I stumbled into my fiance's village a few hours before sunrise. They thought I was an evil spirit. I'd gotten onto the wrong path in the dark, and since I could see the lanterns of the women who were up early carrying water, I lurched off in their direction. But they scattered whenever I approached. I blundered about tripping over yam mounds until a young woman, who must have assumed an evil spirit would stick to the footpaths, led me to my fiance's door. I went inside, put down my pack, and fell asleep.

When I woke up, my fiance was sitting next to my pack with chocolate running down her face. In the courtyard through the open door I could see a pack of children unwrapping bright foil, which seemed to intrigue them as much as the candy inside.

"The kids are all teasing their mothers because they thought you were an evil spirit," she told me. "Why on earth did you bring all this candy?"

"I had to," I said, gathering her in my arms. "I'm the Easter bunny."

Easter Candy Sites on the Web
Easter Candy http://www.rmpalmer.com
Givechocolate.com http://www.givechocolate.com