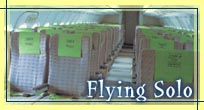 Flying Solo
by Liz Bulkley
Dear Rudy:
With all the discount fares these days, everyone can afford to fly now. And most of the time it seems like everyone is flying...I feel like I've won the lottery if there's even one empty seat in my row.
But not on US Airways flight 1897, Logan to Dulles, on January 8th. I was the only passenger. There I was, one of the few beneficiaries of the nasty weather we've been having here on the East Coast.
Lemme tell you what it's like to fly solo.
Wow.
I stroll down the aisle of the Fokker-100 to my assigned coach seat. Then I realize "Hey, I can sit ANYWHERE! It's all...MINE!" My eyes wander wistfully to those plush seats in first class.
My flight attendant tells me to wait 'til the other passengers are on board before moving up.
Liz: "Uh, I don't think there are going to BE other passengers on this flight."
She looks at me as if I'm crazy...I'm used to that...then ushers me up to the front! I meet Terry, my first-class attendant.
He says: "Liz, could I bring you anything to drink before we take off?"
So this is what first class is all about. Forget the extra saddle space, we're talking luscious lounging. "Oh that'd be great. Scotch and soda please."
The captain comes on. "Good evening, Liz, this is Art, your captain speaking. Liz, your crew tonight is Molly, Terry and Vince. We hope you enjoy your flight, Liz, so sit back and relax."
Yeah, my captain! My crew!! MY FLIGHT!!!
All this and a discount fare. I've since found out it costs a lot to charter a jet from Boston to Washington. My plane cost me $146. That's including the return leg to Boston. So tell me Rudy, doesn't that entitle me to some sort of "Deal of the Week" award from The Savvy Traveler?
I take another sip of my drink. I'm thinking, "This will never happen to me again as long as I live." I want this to last.
Next thing I know, the intercom clicks on. "Liz, we're beginning our descent to Washington Dulles International Airport."
No! Not yet!
Terry, my attendant, feels my pain and hands me an unopened real-sized bottle of a Louis Martini 1996 Chardonnay.
I look at Terry. "I don't want this to be over. This is like being on Air Force Two."
He says: "Well given your name, it's really more like the QE-3, isn't it?"
Yeah, Queen E-liz-abeth the third... I could get used to this. I love it!
Boom. We're down. We taxi. We stop. I stall. I wonder how to have this experience again. And then it hits me.
"Okay everybody, just one last thing: I want to see my plane and all of you Monday evening at 7:30 PM when I'm returning to Boston! Don't disappoint me!"
So that's my solo flight Rudy, wish you were there, but hey, then there'd be no story.
Bye for now,
Liz
P.S. As you might've guessed, the crew was a no-show Monday, so I was stuck traveling once again with the ordinary livestock.