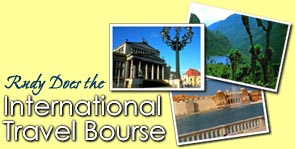 Every March, Berlin is the site of the world's largest travel convention, the annual International Tourism Bourse, or ITB. Nearly 7,500 exhibitors from 190 countries -- including cities, hotels, airlines, train lines, and package-tour companies -- come to hawk themselves at Berlin's giant convention center. Rudy decided to visit a couple booths of destinations that aren't on the top of everybody's wish list.
Rudy Does the International Travel Bourse
by Rudy Maxa
I was in Berlin last week for the International Tourism Bourse (ITB) the world's largest travel convention, with nearly 7,500 exhibitors from 190 countries. Bands played, magicians performed, and gourmet food was served while marketing types met perspective clients at Berlin's gigantic convention center.
At the Israeli booth, I came across a group of bright-eyed young men and women singing. Yup, that sounds like "California Dreamin'" but if you understand Hebrew, you'd know the chorus is actually "Tel Aviv Dreamin'."
This is how travel is sold on a large scale. The men and women meeting at the ITB in Berlin shape the way we may travel in the future. Favorite destinations and package tours trickle down to travel agents and planners around the world.
I decided to go against the grain. I passed up the champagne and homemade chocolate-chip cookies at the Ritz-Carlton booth, said "nein, danke" to the weisswurst and pilsner at the Munich tent. Instead, I went in search of places that aren't anywhere near the top of anyone's must-see list.
Nakshara: "My name is Ignatius Nakshara. I'm the sales and marketing manager of the Uganda Tourist Board."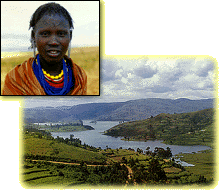 Uganda, of course, suffered a black eye a few weeks ago when eight foreign tourists were murdered by rebels from a neighboring country. The victims were on an organized tour of Uganda's Impenetrable Forest to view gorillas. The county has a small booth here on the floor of the ITB, and Mr. Nakshara has the unenviable job of convincing the travel industry Uganda is safe.
Nakshara: "Immediate reaction was to suspend tours to these areas until the end of March. In the meantime, one, we are trying to do is put together a security system where the border will be more secure and such culprits won't be able to cross over to Uganda side that easily."
Uganda is the victim of bad luck. Then there are those places that have been on the B-list for years. I walked across an expanse of sand -- who got to clean THAT up later, I wondered -- and a huge photograph of Muammar Gaddafi greeted me at the Libyan booth. I spoke with Abdul Nassar from Sahara Tours in Libya. He misses American tourists.
Nassar: "It would be very pleasure to accept them and that they are very welcome to Libya anytime."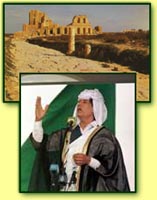 Libya is a tough sell. That's because the country still hasn't turned over for trial two men suspected of planting the bomb that led to the explosion of Pam Am 103 over Lockerbie, Scotland. The country is the subject of sanctions by the United Nations, so major airlines can't fly into Libya.
Which means to visit Tripoli, you have to fly to Egypt and drive 12 hours. Mr. Nassar assured me he thinks this Lockerbie thing will be cleared up in the next couple of weeks. And then he'll look forward to a rush of American tourists.
Nassar: "They are more welcome than anybody think. As you know, Libya is very safety country and the Libyan love the American a lot. A lot of Libyan used to study in the United States and they have very good friends and very good experience with professors and will be happy to have some of them in Libyan!"
Next Stop, Algeria
Why is it that the photograph of Gaddafi didn't give me a warm and fuzzy feeling? Next stop, Algeria. Beneath a goatskin tent, a half-dozen desert tribesmen sit cross-legged in robes and turbans playing music next to ashtrays filled with the remains of cigarettes.
An elderly woman sat next to the men, only her dark eyes visible. She, too, is swaddled in robes, and she cuts and weaves strips of leather. Her hands were even tougher and darker than the leather. Every once in a while, and I don't know why, she let out a wild "whoop" with the music. Otherwise she was silent.
Kirani Achmed owns a hotel in southern Algeria. I tell him I read of the frequent massacres in his country since the violence between Muslim fundamentalists and the government began.
Achmed: "I am Algerian people and I am living in Algeria and never I see any problem there."

Rudy: "And clearly you want tourists to come to Algeria?"

Achmed: "Yeah, really, you can come without any problem also."

Rudy: "Where do most of your tourists come from?"

Achmed: "At this moment, I am working with lot of German person. Before the problem we worked a lot with France person and Italian person."

Rudy: "What is the very best part of Algeria?"

Achmed: "The desert. It is very beautiful but we never can explain about it, we never can see the television. You have to be in the desert, there is something no normal inside."

Rudy: "Magical?"

Achmed: "Yes, magical. That is it."
I didn't have the heart to visit with Yemen officials. I expect I would have heard the same affection for homeland I heard from the Libyan and Algerians. As devoutly as they love their countries, the men and women from nations scarred by violence or shunned by the international community know how the lack of tourism impedes their progress.
Travel and tourism now accounts for eight percent of the world's jobs. The travel industry represents nearly 12 percent of the world's gross domestic product. If peace does ever break out worldwide, and the fringe nations find prosperity, not even the giant convention halls of Berlin will be able to contain the global enthusiasm for travel.