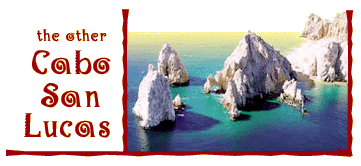 The Other Cabo: San Jose del Cabo
by Shirley Strashinsky
Dear Rudy,
Ahead of me, rock star Iggy Pop walked down the stairs and onto the tarmac of the airport at Los Cabos, off for a little R&R in Cabo San Lucas, where big-time celebrities like to play. I was heading for the other "Cabo," the town of San Jose del Cabo, which is to Cabo San Lucas as Sinatra's "One for My Baby" is to Van Halen's "Eruption."
We arrived just at sunset, and I lingered for a time watching the high desert mountain rim turn a deep, glowing purple and letting the warm air, the slow motion and the recurring surprise of Mexico seep in. How to explain the surprise? I can only say it is the little things at the edges, the tables in Tony's Cafe splashing together vivid shades of pink and green and a very bright blue. It is the bull ring with a sign that says "Bullfight every Wednesday at 4" and it is Wednesday and it is four, but there is no bullfight.
Baja is serious marlin country. I joined a group of seven on a charter boat, and we set off on a bright blue and brisk morning, a few eight-inch fish in the well for bait. We waited. The captain zigged and zagged, relentlessly. Hours passed. Just as it seemed hopeless, the cry came: "FISH ON!!" A young woman was in the fighting chair...letting the line out, reeling it in, concentrating so hard we could feel it.
"Talk to us, Megan," someone teased.
"Talking hurts!" she moaned.
That was when I saw it, just under the surface: a luminous, shimmering aqua, the color dancing under the waters like some spectral image, a burst of flickering color that seemed to catch in my chest and flutter. I felt as if I had seen something pure and perfect, shining in the water, as if the spirit of the fish had been transformed into light. Then it vanished and the next moment the marlin, a gleaming iridescent purple, was in the first mate's hands, throbbing.
"Gift for captain?" he asked, catching us off guard.
Long pause. Then someone said, "No, we're going to release it." We watched it slip back into the water, hold for a moment and slowly swim away. Then we cheered as the mate hoisted a red and white flag, signal that we had caught our marlin and had chosen to release it.
That evening we went into the town of Cabo San Lucas, where you can drink cheap tequila and dance all night, but it seemed beside the point. For all its rock stars and neon glitz, its dock filled with hundreds of yachts, its main street jammed with bars like Planet Hollywood, its hillside homes owned by Sylvester Stallone and Mel Gibson for all this, the town couldn't begin to compete with the shining light emanating from the young marlin we had caught...and set free.
Shirley Streshinsky is a journalist, novelist and travel essayist. When she isn't on the road, she lives and writes in Kensington, California.
For more information on Cabo San Lucas visit:
All About Cabo San Lucas: http://www.allaboutcabo.com
Los Cabos Travel Guide: http://www.go2mexico.com/cabo/