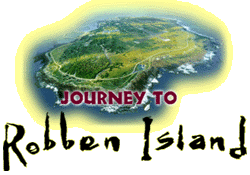 After having helped free his country from the bonds of apartheid and establishing a new, truly democratic government, South African President Nelson Mandela has said he will not seek reelection. Among the many legacies which President Mandela leaves behind is the establishment of Robben Island as a national monument. It was on this bleak and wind-swept outcrop, ten miles off the shores of Cape Town, that Mandela served the majority of his 26 years in prison. The Savvy Traveler's Tom Verde visited Robben Island, to see the prison cell where Mandela spent eighteen years of his life and where South African democracy was born.
Journey to Robben Island
By Tom Verde

The Dias

The Dias is a 100 foot, steel-hulled workhorse of a vessel that once transported prisoners to Robben Island. Viewed from the rolling deck, the port city of Cape Town grows steadily distant as rain clouds enshroud nearby Table Mountain. For so many of the island's wretched inmates, this was the last view of the mainland and of freedom.

Today, most passengers on the Dias are tourists and groups of school children . . . a generation of South Africans to whom apartheid, or the government-imposed system of segregation, is now an ugly chapter in their history books.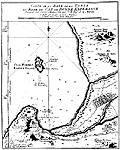 Map from Abbé Prevost, Histoire Générale des Voyages, 1748 (click to enlarge)

With the exceptions of its years as a 17th century Dutch trading station and a British garrison during World War II, this 1400-acre island has always been a place of exile and misery. Over the last four centuries, it has served as a leper colony, an asylum for the mentally ill, and a prison for slaves and criminals. Among the earliest political prisoners here were 19th century Xhosa tribal leaders who refused to accept the authority of a foreign power.
GUIDE: Ladies and gentlemen, this is cell number five. . . this is where President Nelson Mandela was staying. President Mandela stays in this cell for about eighteen years . . .
Nelson Mandela, another heroic Xhosa tribesman, would later be imprisoned here for resisting an oppressive government. The six and half by nine and a half foot cell where he spent almost twenty years of his life has since become something of a shrine, visited by nearly a thousand people a day.
GUIDE: When you first arrive in prison, they body search you, they take your clothes, they take your money, they take all your particulars, they give you prison clothes. They also give you a number. That number represents your name. My name in those days in the form of a number, it was 7/67.
Former political prisoners conduct the hour-long tours of the island, which cost about $20. Our guide, 56-year old Patrick Matanjana, was sentenced to Robben Island in 1967 for terrorism. Prison officials segregated Matanjana, Mandela, Walter Sisulu and other political prisoners in a special block of cells, fearing that they'd influence other convicts. Nevertheless, as Matanjana describes, prisoners found ways to communicate with each other, despite high walls between exercise areas and the watchful eyes of the guards, or warders as they were called.
GUIDE: We used to take a tennis ball, and then you cut it, you put a note inside, you make as if you are playing a tennis, puff the ball over the wall. Warders are going to say, these people can't play tennis, they don't know that you are doing that deliberately. When those ones get the ball, they just take the ball and take the note out, and throw the ball again. Finished. That's communication.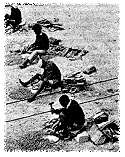 Prisoners breaking rocks

Similarly forbidden, yet even more important, was communication with the outside world. Prisoners would write letters on toilet paper, wrap them in plastic, and slip them into the mouths of their wives as they kissed during visits. Sympathetic clergy also helped smuggle out information by concealing convicts' letters in prayer books.
GUIDE: When the priest says Amen, he closes the Bible, together with that note, the whole information is gone, and he is not going to be searched because he is a holy man. This is what prisoners used to do, because that letter is so important, that letter, it exposes our conditions here this letter must not disappear because our lives depend on that letter.
Conditions were indeed appalling at Robben Island when Nelson Mandela first arrived here. Prisoners slept on the floors on straw mats, bathed in freezing cold salt water, and lived in constant fear of cruel and capricious warders who were hired based on their reputations for brutality. Mandela and others slowly brought about change by drawing the attention of global relief and human rights organizations like the Red Cross and Amnesty International. Among Mandela's most ambitious goals was that all prisoners would receive an education.
MOHAMED: You are actually standing now on the campus of a university once upon a time.
Former inmate Yasien Mohamed surveys the milky-white lime quarry where prisoners spent their days digging. During Mandela's early years on Robben Island, inmates were not allowed to study. Still, those who wanted an education, got it.
MOHAMED: Those who were doctors, lawyers, teachers and journalists enhanced the education of the less fortunate. If you are doing, for example, mathematics you will stand while working next to a mathematician and he will teach you mathematics by making like children making drawings in the sand.
Eventually, all prisoners were given the right to study.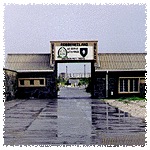 Prison gate, Robben Island

In 1982, Nelson Mandela was transferred from Robben Island to Pollsmoor Prison in Cape Town, then again two years later to nearby Victor Verster Prison, where he was finally released on February 11, 1990. The following year, the government closed down the prison on Robben Island and declared it a national monument in 1997. In a speech given on the island during that year, President Mandela referred to Robben Island as "a symbol of the victory of the human spirit over political oppression." It is for this reason, and no other, that Robben Island guide and former prisoner Patrick Matanjana returns to this place of painful memories every day.
GUIDE: I'm doing this not because I like it, not because I had to do it but I'm doing this as a free man so that even the next generation should be in the position to see that uh how conditions used to be, they should know, they should see how their forefathers, their foreleaders used to be.
On Robben Island, South Africa, I'm Tom Verde for the Savvy Traveler.
VISITING ROBBEN ISLAND:
There are five daily trips to Robben Island, with boats departing from the clock tower on the Victoria and Alfred Waterfront. Tours cost about $20 and include transportation to and from the island plus a tour of the prison, prison grounds, and the quarry where prisoners labored. Eco-tours, to see penguins and other sea birds, and cycling and walking tours to see the village where prison officials and their families lived, are also available.
For reservations and tickets contact:
The Robben Island Reception and Information Centre
PO Box 51806
Waterfront 8002
Cape Town
Republic of South Africa
Tel: (021) 419 1300
Fax: (021) 419 1057
e-mail: embark@robben-island.org.za
OR
Robben Island Museum
Robben Island 7400
Cape Town, S. Africa
Tel: (021) 411 1300
Fax: (021) 411 1059
e-mail: info@robben-island.org.za
Alternatively, ask your travel agent before you go to arrange tickets, or have your hotel make reservations for you.
Visit the Robben Island website at www.robben-island.org.za
OTHER ATTRACTIONS:
Cape Town is S. Africa's oldest city, founded in 1652 by the Dutch East India Company. There are many fine examples of Dutch colonial, Georgian and Victorian architecture throughout the city. There are many things to see and do--from the hub-bub of the Muslim market to the excitement of a cable ride up Table Mountain, to the peace and quiet of The Company Gardens, a remnant of the original 17th century gardens planted by the Dutch East India Company to grow food to replenish its ships as they rounded the Cape of Good Hope.
Among the Cape's most famous attractions are:
The Victoria and Alfred Waterfront:
Historic waterfront shopping district where you can find anything from gemstones and antiques to tacky souvenirs, in addition to a variety of great dockside taverns and restaurants.
Table Mountain:
Rising 4100 feet above the city, Table Mountain is the Cape's most distinguishing natural landmark. From its massive flat summit (which gives it its name; when rain clouds obscure the summit, locals say that the mountain is wearing its "tablecloth") visitors can enjoy breathtaking views of Cape Town as well as Table Bay, False Bay and, on a clear day, the distant Hottentots Holland Mountains. Take the Cableway to the top for a thrilling ride.
Accommodations in Cape Town courtesy of:
The Cape Grace Hotel
West Quay
Victoria and Alfred Waterfront
Cape Town
South Africa
Tel: (27) 21 410 7100
Fax: (27) 21 419 7622
e-mail: cgrace1@iafrica.com
Elegant and gracious new hotel, centrally located on the Victoria and Alfred Waterfront and just minutes from the clock tower where you catch the boat to Robben Island. Spectacular views of Table Mountain, the yacht marina, and the working harbor. Extensive wine list at Quay West, the hotel's restaurant, which offers a fusion of Mediterranean, Eastern and local dishes (don't miss the Quay Lime pie for dessert!).
Double occupancy rooms start at around $260 per night.
Air Carriers:
South African Airways, in partnership with American Airlines, has direct flights from the United States (New York and Miami) to Johannesburg. Call 800-722-9675.
Other carriers to South Africa, via European cities, include:
British Airways
Air France
SwissAir
KLM
Northwest

For more information on travel to South Africa, call or write:
The South African Tourism Board
747 Third Ave.
20th Fl.
New York, NY 10017
212-838-8841
800-822-5368

Suite 1524
9841 Airport Blvd.
Los Angeles, CA 90045-5431
310-641-8444
800-782-9772

Air transportation courtesy of the South African Tourism Board.