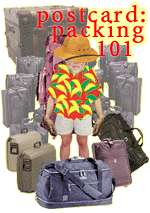 Packing 101
by Mary Lou Weissman
Dear Rudy,
In the beginning, there was no packing. There weren't even any clothes. If Adam and Eve had not gotten themselves banished from the Garden of Eden, their children and their children's children would not have to decide between taking one pair of underwear and rinsing it out every night, or packing seven, thereby taking up space that might better be used for a wide spectrum antibiotic, a current adapter, or an alternate pair of walking shoes.
Having nothing to wear is a condition I take with me wherever I go. No matter how much I learn in advance about my destination, I seem not to be able to process the information to any useful effect. Is hot in Paris the same as hot in Connecticut? It rained 2.1 inches in Prague last August, but was that all at once, or a little bit nearly every day? Are floral prints okay in Bosnia, or is basic black nicer in a war zone? I compensate for not knowing what to take by taking everything I own.
My husband is also an out-of-control packer. We are each other's enablers. What else does "made for each other" mean? Whenever we're faced with two empty suitcases, we try to keep each under control, taking it one outfit at a time. "Are you bringing blue jeans?" I ask my husband who is fighting his own packing demons on the side of the bed. He is. I am reassured. I'll take mine. "How about three T-shirts?" he suggests. "Sounds about right," I agree. He, in turn, wants to know if I think he can get away with a sport jacket and one pair of decent trousers, in case we do anything slightly fancy in the evening. "Absolutely," I say. "I'll take one pair of black slacks and a blouse."
So far, so good. These are our finest marital packing moments. We are centered. We are open and honest. We are mutually supportive. We are fighting a common enemy and working together toward a common goal--fitting everything into carry-on so we never have to go to baggage claim. I'm always the one to give into temptation first, a precedent established in Genesis 3.
Just when we're virtually finished and all that we have to put in are the toiletries, I am seized by a perverse and irresistible urge to pack more. I know I'm engaging in destructive behavior. I even know I'm going to be sorry. But I don't care.
"Sweetheart," I say, "Wouldn't you like to have another outfit, just in case?"
He bites. What began as a commitment to control our packing habit, ends in betrayal and a race to the bottom. He slips in an extra jacket. I retaliate with a sweater. He ups the ante with two more pairs of slacks. I pack three. We take a quick time out while we head to the attic for larger suitcases. I end by packing a dress I don't even wear when I'm at home. He stuffs in a pair of black wing tips. I tuck in some heels. We are like two bulimics with spoons in front of an open fridge.
It's paradise lost all over again. No wonder Adam and Eve were sent packing.