Taking Another Look at Haiti
Interview with Wade Davis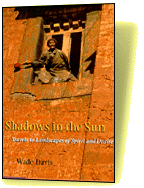 In the early 80s ethnobotanist Wade Davis traveled to Haiti and encountered the fascinating cultural phenomenon known as vodoun...we know it better as "voodoo." His fascination with voodoo became the basis for Davis' spellbinding novel - and later film - called, The Serpent and the Rainbow.
Since then, Davis has continued to explore indigenous cultures and his most recent book, Shadows in the Sun, is a compilation of essays about many of their customs and rituals. In the book Wade argues that in our quest to know the world we often disturb the very foundations that make native cultures stable.