Singapore is a tiny and very prosperous city state. It sits just one degree north of the equator and is no more than a day trip by bus, train or boat from its neighbors Malaysia, Thailand, Indonesia. As we all know, Singapore is a place to do business. It's been like that since the 14th century. Back then it was pirate business, later fishing business, and then (with the arrival of the famous Stanford raffles and East India company), it was spice business.

For centuries Singapore has been almost synonymous with ships and trading. It still is, but now the trading is in commodities, electronics, things financial and high tech. In the past thirty years, Singapore has become an economic miracle...the second in Asia in prosperity only to Japan. But along with that success, small neighborhoods were bulldozed and English become the main language of instruction. Many traditions of the three main cultures, Chinese, Indian and Malay, disappeared. Many disappeared, but not all.

If you look carefully and don't get too absorbed in the stunning malls and duty-free heaven, you'll find another Singapore in the crevices between the skyscrapers, on the urban edges. A zone of unpredictability.

Judith Ritter sought out the chaotic, the noisy, the slightly unsanitized Singapore and found it in the herbal medicine shops, on beat-up boats plying the river, in a nearly abandoned village, in vibrant Malaysian, Indian and Chinese neighborhoods that stand out as low colorful strips against the backdrop of soaring office towers and hotels.
Vanishing Singapore: Morning, noon and night
by Judith Ritter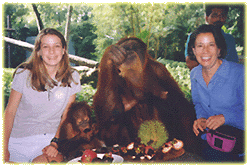 Judith and daughter Devorah have breakfast at the Singapore Zoo with an orangutang mom and daughter
My first trip to Singapore was almost two decades ago. I was lured by the heat and by tales of Joseph Conrad and Somerset Maugham. But when I was there, I slipped into shopping euphoria -- calculators, watches and perfume. I saw huge container ships -- not wooden schooners. Heard rock 'n' roll -- not chanting. But still there was something that drew me in -- the contradictions.
A fortune teller who set up shop in the lane between two skyscrapers. Four men kneeling and praying in front of a fruit, flower and incense offering set on a patch of perfectly manicured grass at the foot of a splendid white office tower. Those images stayed with me. So after 20 years, I came back to see what was left of tradition. I asked taxi drivers, people on the street and guesthouse clerks where to find vanishing Singapore.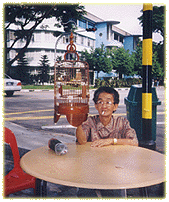 Sunday morning at the Wah Hin coffee shop, song bird owners show off their pets
A tour guide tipped me off to an old marketplace in Geylang Serai. This neighborhood is the heart of Malay Singapore and the frantic beat of international business and the latest fashion are barely noticed. Every morning, the old market is crowded and noisy as it has been for fifty years.
At 7:00 am the air is already humid. It smells like jasmine, rose, lime, onion, and live fish still flopping in baskets. You see dozens of women draped in yards of colorful batik scrutinizing leafy green vegetables and scooping handfuls of red chiles from burlap bags. I feel conspicuous. Not just for the blandness of my requisite U.S. traveler khaki and summer whites. but because my head is uncovered. At least a dozen men watch me eat my breakfast at a kiosk in the market. Long noodles slip off my spoon, sliced green chiles issue a dare from the bowl.
About twenty feet away, a heavy-set young man is standing behind piles of dried shrimp and cuttlefish in open baskets. He's running his hands through tangled dried anchovies and at the same time bargaining with an older woman who seems to be enjoying herself. In fact, they both are.
As a child, this vendor, who introduces himself only as Arif, used to come here with his mother. Now he owns a stall and he's in the frontline of a new generation of Maylays who reject or are at least indifferent to Singapore's sanitized shopping mall culture.
Arif: Over here it is more like an old market. We do bargaining. Like you just saw me do. Anchovy sales now...say nine dollars...this is the old concept -- we do bargaining. New places put a price tag. Old concept do bargaining. We should keep the tradition or culture is lost.
Despite Arif's efforts, much of traditional Malay life has disappeared. Few Kampongs, Malay villages, remain. The city has overrun them. And apart from this neighborhood, this market, there's no real gravitational center for the culture. All that's left is a tourist version of a Maylay village. Folkdances on the hour. The Indian presence in Singapore, which is larger, has fared better.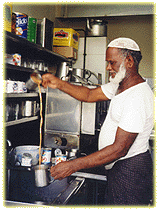 Cooling off hot coffee in Little India
It's Sunday afternoon and a taxi driver has just dropped me off here in an area called Little India. Even in a tropical electrical storm and 90 degree heat, Serangoon road, just ten minutes by taxi from the stylish downtown core, is a carnival of smells and colors. It's so hot and the air so charged, my tape recorder doesn't work.
The latest Indian movie music blasts from the decorated archways of open shops. Barrels of green okra, powdery orange curries, piles of white jasmine garlands, carved deities, and bolts of silk line the streets. Men in dhotis, loose colorful fabric draped from waist to knees, and women in saris flecked with gold, weave through the crowds.
Gokula Balan works here and prays at Sri Mariamman, an almost 200-year-old Hindu temple. Its conical tower rises into the sky. The front is interlaced with colorfully painted reliefs of deities. This temple is the site of the religious practice of firewalking. Gokul Balan and more than a thousand other fastidiously observant Hindus firewalk to show their gratitude to the goddess.
Firewalker: I'm involved in this firewalking for 35 years. More than a thousand people firewalking for their faith. We will walk followed by our chief priest. When you come into the temple it is very hot. Our chief priest will go first on the fire. We walk on the coal for 30 seconds. The length is 20 feet.
It's night and finally a bit cooler down here on banks of the Singapore river. The sign surrounded by lanterns and draped with red cloth says "traditional Chinese opera tonight." On the backdrop of tiny lights of boats moving on the dark river, musicians are tuning up. Young performers sit on crates at the side of the stage and slowly apply the last brush strokes of black and red to their mime white faces.
People are jostling for a place up close to a makeshift stage. Opera has always been part of Chinese life in Singapore. In the past, Chinese opera would just pop up on street corners and in neighborhood parks. That kind of random approach to cultural events has disappeared in this hyper-organized city-state, but the centuries-old opera hasn't. For the uninitiated, the unfamiliar sounds of a kind of two-string fiddle, wooden flute, the dramatic percussion is compelling.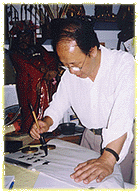 Calligraphy master Yong Cheong Thye
This performance has been shortened adjusted to late twentieth-century attention spans, but opera director Lesley Wong, says much about the ancient art remains unchanged.
Wong: There are certain fixed rules. The male has to walk in a certain way. Another traditional thing is the percussion never changes. The way the make-up is put on. The hairpiece cannot change. What you are seeing now is what you would be seeing a hundred years ago.
When the opera ends, it's after ten. The crowd drifts off. Just a few minutes ride away from here, designer boutiques, electronics stores in startling white skyscrapers are closing for the day. The wide smooth streets lined with uniformly sized palm trees, are immaculate. Taxi drivers wear impeccable white gloves and ferry young people to energetic but well-monitored clubs to hear the latest international music. And even before the hot equator sun rises again, computerized elevators will begin to shuttle bankers and business people from around the world up 30, 40, 50 stories to their offices.
Old Singapore hasn't vanished completely. Buried in the back pages of newspapers there will be stories: a python that appears in a small garden off orchard road, a tiger on an offshore recreational island, even an occasional crocodile in a reservoir-like jungle vegetation pushing its way through cracks in the in the concrete. The smells and tastes and sounds of traditional Singapore, of its Malay, Chinese and Indian communities, are still here for the curious, the patient visitor.
For More Information:
Getting There
Try Singapore Airlines from New York, San Francisco or Los Angeles. Singapore Airline's new partner, Air Canada, offers good connections from the U.S. through the Vancouver hub.
Staying There
Hyatt Regency Singapore (65-738-1234) is in the center of the city but has a lovely interior garden and pool that is a break from the bustle.
The Conrad International (65-334 8888) is a perfect convention hotel in Suntec City.
The Goodwood Park Hotel (65-737 7411) offers colonial flavor without the hype of Raffles. Less expensive, but no less colonial, try Regalis Court (65-734-7117).
What's Coming Up?
The Singapore Arts Festival May 30 - June 19, 1999.
The Singapore Food Festival July 1-31, 1999.