Baby boomers who came of age in the '60s and '70s have fond memories of Icelandair. It was the original low-cost carrier to Europe, except it only flew into tiny Luxembourg, after a middle-of-the-night stop in Iceland. Today, the airline still stops in Iceland en route to the continent. But now it serves six cities in the U.S. and nine cities in Europe. Earlier this month, it closed down its Luxembourg route, marking the end of an era. The Savvy Traveler's Richard Basch was aboard the last flight out of the grand duchy.
Icelandair Retires a Legend
by Richard Basch




Three decades ago, the Marrakesh Express of the sky highballed into the heavens with a new generation aboard. They were trippers on a journey. They were imbued with the scent of ambrosia, incense and an unmistakable pungent sweetness. Their chariot was an iron horse with wings and propellers. Its payload: crazy freedom, man. Excitement. The mind-blowing discovery of a Camelot that seemed more real abroad than at home.

In 1955, an Icelandic Airlines DC-8 rumbled down the runway at Idlewild Airport on New York's Long Island, its nose pointed toward frozen tundra. By the 1960s, Iceland's airport outside of Reykjavik became a kind of way station. This was the first leg of a magical mystery tour to the center of many young Americans' dreams.

A dozen hours later, it landed in Luxembourg, once the Teutonic starting point for all of Europe's mysteries. But a few weeks ago, on January 9th, the music stopped. The airline from Iceland erased Luxembourg from its map. With other larger European cities on its route schedule, Icelandic Air didn't need the little country any more. Indeed, tucked between France, Germany, and Belgium, Luxemborug held out long past her prime, like a bride grown stooped waiting at the altar for her never-to-arrive groom. It was time to turn out the lights.

Paul Andersson began working for Icelandair in 1971.
Andersson: All flights full . . . it was unbelievable . . . It was the hippie time, the hippie was sleeping on the ground, waiting to go and when they have empty seats they just went out to the ground -- they called it Hotel Earth -- and picked up the people to fill the plane. There was always plenty of people there. The hippies came back to Luxembourg on the old cars. They tried to sell cars to the incoming people, you know, and they sold it for very low prices and they had the sign up "Car For Sale" for a few thousand francs. It was a beautiful time. But now it's over. It's really sad.
Inside the jets, the long hairs reeked of pot and patchouli. This was the time when the Beatles reigned and everyone who could went to Europe to look for the traces of Ernest Hemingway and F. Scott Fitzgerald.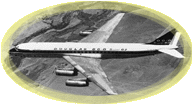 Boeing McDonnell Douglas DC-8.

The DC-8s were big, gas-guzzling ferries filled with merry pranksters, grateful for a cheap seat to Europe. Other airlines passed right by Luxembourg, but the Luxembourgers were grateful for the business Icelandic Air brought them. Rod Stewart flew the airline. So did a young, Oxford-bound Bill Clinton.

On the last flight out of Luxembourg, a flight attendant told me lots of people met and fell in love on the airline. After hearing that a couple of times, I asked a flight attendant, "How did you notice it -- falling in love, I mean? What does falling in love look like?" She looked at me squarely in the eyes, then with a sigh glanced at the heavens, blushed and said, "Well . . . you could see it!" "Oh," I said, "that kind of falling in love." And I grinned back.

In those days, Iceland's Keflavik Airport was a lackluster Quonset hut where you could buy coarse, zippered, Icelandic sweaters and shots of Aquavit. Today, Idlewild is called Kennedy, Icelandic is Icelandair, and Bill Clinton flies aboard Air Force One. What's more, Icelandair flies Boeing 757s, serves good food, and even offers (dig this,man) business class.

You still have to change planes in Iceland, that semi-Arctic country full of Lutherans who speak the ancient Viking language. But now the airport is a color-coordinated oasis filled with Hugo Boss clothes and espresso bars. Icelandic Air did nothing to commemorate the last flight from Luxembourg. Few of my fellow passengers knew they were on the last train from Clarksville, the final run of the Marakesh Express. And so, it has to remain a figment of our fancies and a sweet memory, a flight that now, can only be boarded in our hearts.

For the Savvy Traveler, I'm Richard Basch.

Visit the airline now known as Icelandair.