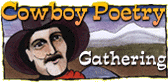 Each year, during the last week of January, the town of Elko, Nevada fills up with tourists and cowboys. They have come from all over the world to ground themselves in the old ways of the West at the Cowboy Poetry Gathering. The Open Road's Hal Cannon is the father of this event and he and his wife Teresa Jordan take the Savvy Traveler on an insider's tour.
Cowboy Poetry Gathering
The Open Road
Hal: It's the middle of winter in the middle of nowhere -- late January in the high desert of northern Nevada. Elko used to be a sleepy little cow town this time of year, but not anymore. Why have 8,000 travelers made a pilgrimage to the American outback for what feels like a family reunion (except for the fact that everyone likes one another)?
"Hi Stephanie...good to see you...oh the gang's all here."

Teresa: We all know about the Marlboro Man, tall and slim and silent, riding into the sunset alone. We don't think of him reciting poetry to a crowd. But then, cowboy life is rich in lingo and full of stories, treasures that beg to be shared.
Hal: It's hard to overstate just how full this town is with music and rhyme. During the day, a dozen places host poetry sessions, exhibits, and workshops. At night you can dine on the best steak and lamb you've ever had in your life at one of the Basque restaurants. Then you choose from a dazzling variety of shows and dances. All that wraps up around midnight when the official festivities end and everyone stumbles to the Stockmen's Hotel to hear cowboy musicians jam all night.
Hal: Tourists come by car, cowboys in pickups. They come by train, bus, airline and even private jet. Some prefer more basic modes of transport.
"I rode a horse 330 miles...and we rode everyday from daybreak 'til sometimes after dark."
Hal: It took Paul Bliss and his pardner almost a week, a' horseback to get here through a blinding snowstorm and sub-zero wind chill. Paul wrote his first poem when he struggled to tell his three-year-old son why the family's favorite horse didn't come home from a pack-trip. It changed his life.
"Well, son, I was out in the Deep Creek Mountains...I'd spent a cold night...twas about the mid of November...just after a blizzard snow...."
Bliss: "I don't express myself really well, to get my true feelings out and it's been hard for me all my life. But I set down and wrote a poem for Hagan and I found an outlet to tell my emotions and groom them and set them exactly how I feel. It's even changed things with my wife."
Teresa: Ranching people have journeyed here from some of the most isolated places on the continent, and most will tell you that their few days in Elko feed them all year long.
Virginia: "This thing has changed my life in almost every way. The friendships I make here sustain me throughout the year."
Paul: "It's spending three or four days with kindred spirits, sharing those emotions and knowing you're not all alone We're living in seclusion and isolation."
Stephanie: "It's like you've been wandering lost in the desert and you've come up finding your own people."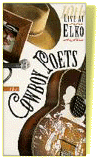 Teresa: The week is full of music and stories and rollicking fun, but it also gives ranch folk a chance to confront the real issues that shape their lives. Nearly every rancher and cowhand here is struggling to stay on the land and between poetry sessions, many of them take in workshops and panels on everything from environmental issues to family dynamics, information that can be a lifeline thrown out in the sagebrush sea.
Virginia: "Everything here applies directly to my life. We cover a whole gamut of things, and if you were to go home from here and trash out the land, you would be a hypocrite. Those sort of people are weeded out pretty quickly."
Teresa: It makes sense that rural people jump at the chance to meet kindred spirits, but why has this event become central to so many city dwellers' lives? On the surface, it's a spectacle of tall hats, fancy boots, and some of the most amazing mustaches in the world. But the urban tourists who come here say that this pilgrimage changes them. It heals their souls.
Walser: "I can't stand to see a young man go to waste."
Sue: "As a single woman, I can tell you there is no place like Elko for a gal with an eye for the cowboys!"
Hal: It's not only the gals who are looking for romance. I spot a group of young cowboys scoping out the crowd.
"I want the real thing...a cowgirl. One that can ride and rope and just doesn't sit in the house and cook all day."
Hal: I know what they're talking about. I asked Teresa to dance here eight years ago, and we haven't stopped yet.
Hal: "So you wanna go dance?"
Teresa: "I do wanna go dance."
Teresa: People come to Elko from a lot of places, and for a lot of different reasons, but most everyone will tell you, by the end of the week, that this is where they belong. Most of them are already planning next year's journey.
On the Open Road, I'm Teresa Jordan with Hal Cannon for the Savvy Traveler.
Want the inside track on tickets and lodging?
There are lots of places to stay, but you'd better act fast. Hotel managers tell us that almost everyone who checks out reserves a room for next year.
Want more gathering info?
http://www.westfolk.org./gathering.info.html

Interested in Education Opportunities?
http://www.westfolk.org./gathering.ed.html

Care to browse the calendar of events?
http://www.westfolk.org./gathering.sked.html

Want more information on the history of Cowboy Poetry?
http://www.westfolk.org/p.home.html