Is it the Superbowl Yet?
by Pippin Ross
People who live in Miami don't like rain. They're not accustomed to it and it keeps them indoors.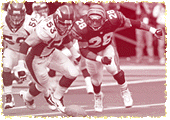 That's why organizers of this 10K road race, one of dozens of events surrounding the Superbowl, were shocked when 800 people showed up in a torrential downpour to race from a Hooters restaurant to Pro-Players Stadium, site of Superbowl XXXIII. The cool, wet weather appealed to some of the runners, but most had another motivation.
Runner: "Little dedication to this weather but also the love of football. Hoping to win those tickets."
Two tickets to Sunday's game. Like the cultural equivalent of a stadium wave, football's pinnacle event has swept into Miami, this year's host city. At the airport, private jets cram the tarmacs, fans flood the concourses and baggage handler Bruce Winship is working overtime.
Bruce Winship: "And it's gonna be wild this weekend, it's gonna be wild. I give credit to Miami, we deserve this even though we didn't win."
Part of what makes the Superbowl such a spectacle is that everyone's got an agenda.
[calypso music]
This calypso group has come to town for the week to entertain the throngs on Miami's South Beach.

There are bookies camped at hotel phones and legions of memorabilia hawkers.
Vendor: "We have a special Dan Marino piece that was made especially for the NFL experience. There are only 6,000. It's a limited edition and they're $11 each."

Vendor 2: "And we have bumper stickers and hats and stuff and we got single cards so we got a pretty good selection. We're from Minnesota. We came down from Minnesota for the experience of the thing."

Vendor 3: "We sell a lotta rookie cards here at reasonable, good prices. You need 'em, we got 'em."
Others, such as this volunteer from the Miami Zoological Society, have more altruistic motives.
Volunteer: "And trying to keep this event litter-free. We're greeting people at the gate and asking them to keep the event litter-free and put everything into baskets."

There are the usual hangers-on and autograph hounds. Former NFL player-turned-professional wrestler Ben Goldberg sees the Superbowl as the perfect venue for self-promotion.
Goldberg: "You know, if I didn't reach the pinnacle of my football career and be able to come to events like this, why not do it through wrestling?"
Lots of young women are turning out for a spate of cheerleading clinics to see if they can seize their only opportunity to perform on the football field.
Amid all the parties, the hype, the glitz and the anticipation, the burning question is: who will win? There may be a seven point spread in the Broncos' favor, but in this town, the Falcons are the hands-down favorite.
Fan: "Go all the way Falcons! $@#% on the Broncos. I don't want to hear anything about Denver.

Fan 2: "I would like to see Atlanta beat Denver 'cause some good Southern butt-kicking is due.

Pippin: "Who are you rooting for?"

Fan 3: "The Jets."

Pippin: "The Jets?"

Fan 3: "I really don't like Denver beating Miami so I'm rooting for Atlanta all the way."
In a city known for its Art Deco skyscrapers, fashion models and Cuban restaurants, there's only one thing on everyone's mind: what a bunch of very large men will do with a pigskin on Sunday.
Waiting for the big dance to begin, from Miami, I'm Pippin Ross for The Savvy Traveler.