If you look closely at the map of Australia, you'll see the little island of Tasmania dangling off the bottom right hand corner. It looks tiny, but don't be deceived. Martin Stott took a car over on the ferry from Melbourne and had an action-packed week driving round in search of devils, mountains and convicts.
Touring Tasmania
by Martin Stott
Tasmania's often been compared with Scotland and there are similarities, but it's a lot warmer! Here you get a bit of everything history, wildlife, wonderful scenery and action. Our first stop is Cradle Mountain.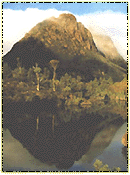 Cradle Mountain
Hi Martin, my name's Duncan. What we're going to do today is have your first lesson in fly fishing. We're going to go out on to this lake. It's a fairly shallow lake so we can wade out a fair way into the water where we'll start to learn some of the basics of the fly cast and we'll go from there.
The fly fishing here is some of the best in the world and it's Duncan's job to pass on the art to tourists like me. Poor soul!
So picture the scene: we've put on a pair of giant rubber wellies and are wading out into the middle of the lake with our rods. Duncan gives an expert demonstration.
It seems all you do is wave the rod backward and forward in the air letting out a bit of line all the time and eventually you stop and the fly lands gently on the water on the end of a viscous little hook. It's several meters away from you, and looking pretty and juicy for a passing trout. You're a hunter. Only your grace and guile will trap the wily fish.
OK, we're ready to start. [And I bet you can guess the rest!]
Perhaps I should try something else!
Now this is easier. We're riding through a 40,000-year-old forest. Well, I say "riding," basically the horse knows what it's doing, I'm just holding on tight! Leading the way is Errol Wattley, and what a character.
My mum used to ride 12 miles to school every day on trails like that on a pony. She used to go to dances on a Saturday night and she would roll her dress up, and put it behind the horse, and ride to the dance and put the dress on when she got there. Then she'd dance all night. After the dance, she'd take the dress off and put her old clothes back on, and ride back home again. People don't have to do that today, do they?!
This whole area, the mountain itself, the lakes and the forests, is a world heritage park. We're staying at the Cradle Mountain luxury lodge. It's run by P&O. We've got a log cabin, a wood fire and our nearest neighbor is a wallaby! It's stunning here. But it's time to head south to the island's capital, Hobart, and a night in one of the many colonial style guest houses. Ours was run by a Hungarian called Zsa Zsa and, yes, she did call us "daaaahlings"! It's worth a day wandering around Hobart building up your strength for our next port of call
Here at Port Arthur they used the cat-o'-nine-tail. This is a whip and it has nine strings in it. In those nine strings, 81 knots were tied but that was not enough. They would often soak it in the salt water and dry it in the sun. And they say that when it came down upon your back it felt like barbed wire. Yuk!

Port Arthur
Welcome to Port Arthur. This is where we Brits sent our worst convicts.

You are going to go into a cell for round about 23 hours-a-day. You are not allowed to speak. Any time you came out of one of these cells you'd wear a face mask. You are separate from your fellow prisoners. Can you imagine being in one of these cells for 23 hours-a-day not being allowed to speak?
The guides here do seem to enjoy the gore. It's a fascinating place and many of the old buildings still remain: the convict prisons, the lunatic asylum, the houses for the soldiers and the prison governor.
Good afternoon, ladies and gentlemen, and welcome aboard the motor launch Bundina for your conducted tour of the Isle of the Dead.

And on an island in the bay there's the graveyard. Here you'll learn some of the stories of the people who lived and died in this hell.

William Mansfield himself was transported at 19 years of age for stealing. Now what he stole was a pocket watch two silk handkerchiefs and a waistcoat. He stole these articles from his father who reported him to the authorities and he received 7 years transportation for it. So if you've ever cursed your father, think of Mansfield and you'll think again perhaps.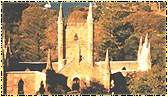 Cathedral in Port Arthur
Three years ago a mad gunman went on the loose at Port Arthur. Many staff know those who died and you need to be sensitive about that. A lot of evil things have happened here. And yet this is a place where beauty triumphs: the harbor, the hills -- it's a place of calm. A few hours drive up the east coast I meet one of the survivors of the massacre, Neville Quinn, who runs the Bicheno wildlife park. He was shot in the neck at Port Arthur, his wife died of her wounds, his mother died of shock on hearing the news. But this isn't a place of gloom either -- it's teeming with life: kangaroos, wombats, parrots. Neville says they keep him going. He introduces me to the famous Tasmanian Devil, a black, cat-size creature with a ferocious reputation. Watch those teeth!
They can apply 400lb per square inch so if they get you by the hand. It's just like putting your hand in a vice and screwing it up and they just cut it straight off.
I didn't stroke it!
For its wildlife, its mountains, coastline and historical guest houses alone, Tasmania is worth adding to the itinerary of any holiday Down Under. A visit to Port Arthur is emotionally exhausting, but adds an extra dimension to the trip. Nowhere in Australia will you get a more graphic view of the country's convict past and the human capacity for evil. But it's so beautiful there you can't help but leave thinking the world is still a wonderful place.
For More Information: