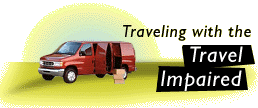 Traveling with the Travel Impaired
By Caryn Bark
Dear Rudy,
Remember in my last postcard I told you about how my husband is travel impaired. Well, unfortunately, I forgot for a while and agreed to take a family road trip.
We were invited to a Bat Mitzvah in Minneapolis. I wanted to fly but Fred insisted we drive the eight hours each way. Ever since we bought a van, he'd been talking about those great family driving trips of a bygone era. Obviously, he's seen too many "Father Knows Best" episodes and not enough "National Lampoon's Vacation" films.
The week of the trip he kept asking me, "Do you have games planned for the kids? It's a long ride. They'll be bored."
"Then maybe we should fly," I tried again.
"No, a family road trip is a great thing," Fred insisted.

As the day of the trip got closer, Fred urged me to buy one of those giant ice chests and fill it with plenty of food.
"But Honey," I said. "We'll stop on the road for lunch. I'll just pack some fruit and some juice boxes."
"No," he said. "We need to pack plenty of food."
Not good enough, apparently. The night before the trip, Fred came home at 10 PM. He had been shopping for road trip essentials at all the bulk shopping clubs and discount stores in town. He found a huge ice chest and every kind of road bingo imaginable; interstate, intrastate, farmland, city, prairie region, mountain driving, etc. Dumping a bag full of art supplies on the table he announced, we'd be leaving bright and early the next morning.
Well, Fred started loading the van at 6am the next morning and by eleven he was ready to leave. Do you remember what the Clampett's truck looked like when they moved to Beverly Hills? Well, according to Fred's criteria, they underpacked. The kids could barely fit into their seats because Fred had found some special travel desks that strap onto the back of the front seats. These were supposed to be slim enough to fold up and down on the kids laps but Fred had stuffed them with so many crayons, books and puzzles that they were bulging open. Next to the driver's seat was a big basket of fruit, cheese and bottles of Big Water Joe, water enhanced with twice as much caffeine as coffee.
"AAA suggested 94 all the way." I said.
"I know a better way. We take 90 first. Then when we're outside the city we go over to 94."
"There must be a reason they recommended 94 all the way. After all , they're the experts."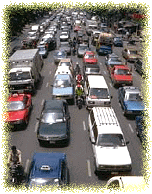 "Caryn, I know what I'm doing. I have a great sense of direction!"
An hour and a half later, we were still on the outskirts of Chicago due to the heavy construction on 90. Three hours later the kids were sleeping on their portable desks and I was about to doze off when Fred excitedly announced, "I don't know why people think driving long distances is tiring. I'm exhilarated!" I glanced at the basket. Fred had polished off a case of Big Water Joe. He was all hyped up. It was like he had just discovered the automobile. "I find this kind of driving exciting don't you? This isn't boring at all . Hey kids, there's a cow over there." Fred began pointing things out to the sleeping kids. Every time he pointed to the right the car swerved to the left. This went on for hours. I was nauseous.
By the time we checked into our hotel, we had just enough time to change and get to a dinner for the out of town guests. It was then that Fred realized he had been so busy packing the van, he forgot to pack suitable clothes. I suggested the hotel gift shop.
At the dinner, Fred was feeling self conscious "I'm embarrassed. It's the only tie they had."
"You look fine," I said.
Mimi, the hostess, was thrilled to see us. "How was your drive?" she asked.
"Really relaxing." Fred told her.
"Go Timberwolves," Mimi said reading Fred's tie aloud.
"Sorry about that our...uh...luggage hasn't arrived yet." Fred improvised.
"But you drove," Mimi said.
"Fred likes to send our luggage ahead."
In the end, Rudy, we really did have a wonderful weekend and even with all the supplies that Fred bought, it only cost us $300 dollars more to drive than to fly. When we got home, we discovered an invitation to my cousin's wedding in anchorage. Fred says he can't wait to drive to Alaska.