When it comes to traveling for business as opposed to pleasure, there are many who would just as soon stay home. Schlepping through airports, five different meetings in six different cities...that's no fun, especially when topped off by a bad night's rest in some hotel room with a cranky air conditioner. But a new breed of so-called boutique hotels, aimed at providing business travelers with a unique alternative, has been gaining popularity lately. The Savvy Traveler's Tom Verde visited one of the hippest new arrivals in the heart of mid-town Manhattan and has this report.
Hip Hotels
by Tom Verde
Sure, there's room service and wake up calls, and little mints under your pillow, but when it comes right down to it, what makes or breaks a night in a hotel is the bed.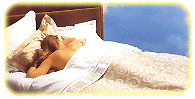 Wilson: That makes an awful lot of sense because really, when you travel, you are buying a bed. And, really, the bed is incredibly comfortable, right from the good quality firm matress topped with a feather bed to soften that matress and give great comfort.
Brad Wilson is general manager of W New York, the first in a new line of boutique hotels run by Starwood Hotels and Resorts, owner of the Westin and Sheraton chains. One of the hottest new concepts to hit the hospitality industry in the last decade, boutique hotels are typically small, intimate establishments, heavy on style and unique amenities, like queen-sized beds piled high with billowy down comforters and pillows.
Wilson: The one comment we get from our guests is that it's very hard to get up in the morning, so in order to make that happen we put in the CD radios in all the rooms so you can wake up to a CD.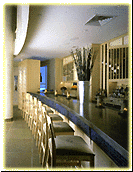 Lobby Bar, W New York
The CD alarm clocks are standard in all W New York hotel rooms, which start at about $250. You can select your own CD from a music library in the lobby, a space that radically departs from the oriental-rug and marble formality of many upscale hotel reception areas. The two-story, 4200 square foot lobby here is light and airy, with lots of blonde wood and natural fabrics. Transluscent panels of Japanese glass embedded with ginko leaves filter soft, southern light into the room which its designer David Rockwell, the man responsible for the look of Planet Hollywood, called an urban oasis.
Wilson: It's more the feel of going to a friend's house for a drink. It's a really nice kind of living room on Lexington Avenue.
The boutique hotel industry was born in the early eighties, not far from here in the Morgans, one of several properties owned by entrepreneur Ian Schraeger, creator of New York's legendary disco, Studio 54. While Schraeger's hotels are chic, stylish and very successful, they offer little for the modern business traveler in way of amenities like meeting space and business centers. W New York promises to bridge this gap, says Kathryn Potter, a spokesperson for the American Hotel and Motel Association.
Potter: Right now the boutique segment is very hot. It offers a totally different experience for business travelers and for leisure travelers who are willing to stay in a hotel that's different, you know, maybe not the same floral bedspreads and same standard size hotel room, and maybe want something a little bit trendier.
Like low-fat, non-dairy, gourmet meals at Heartbeat, the hotel's restaurant, or perhaps surfing the Net and checking your e-mail on Web TV up in your room. Rooms can also be equipped with fax machines, scanners, copiers, whatever. I was assured by the kid who carried the bags up to my complimentary room that room sevice could fetch me a bowl of yellow M&M's, if that's what I had a hankering for.
I opted instead for a Javanese lulur, a $150 rubdown with fragrant oils and spices in the hotel's spa, courtesy of massage therapist Carrie Cummings.
Cumming: The lalur was originally something that was done to the royal princess every day for forty days prior to their marriage and everything, all the spices, all the lotions are imbued with jasmine and frangapani, which are very exotic flowers.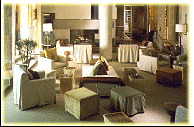 Lobby, W New York
Starwood Hotels' management anticipates this sort of pampering will appeal to a hip, creative clientel -- business travelers in their thirties and forties, from the fashion and advertising industries. But marketing director Diane Briskin admits it's gonna take more than the latest trend in interior design to attract that holiest of holies in the hospitality biz -- the repeat customer.
Briskin: The people who can make you hip and white hot at the start will also be the first people to leave to try the new location when it opens up. So our goal has been to create an environment where people feel it's a unique style but they have an enjoyable stay and that the service is the key so that the real traditional business traveler comes back over and over.
It's an idea that's catching on. In addition to Starwood, there are at least a half-dozen or so smaller hotel management companies out there with boutique properties in major markets like San Francisco, L.A., and Seattle, with even more on the way in Chicago, D.C., and Boston. So the next time you're on the road and somebody asks:
"Are you hep to the jive."
Just show 'em your room key.
In New York, I'm Tom Verde for the Savvy Traveler
For More Information:
W New York
541 Lexington Avenue
New York, New York 10022
phone: 212.755.1200
reservations fax: 212.319.8344
For reservations at W New York, call them toll free at 877-W Hotels (946-8357).
Or visit their web site at http://www.whotels.com.
Other Boutique Hotels:
W is just one of dozens of boutique hotels to have opened in recent years. From San Francisco's colorful and funky Hotel Triton (where doormen summon you a cab by blowing into conch shells; see Kimpton Group below) to the intimate but stately Hotel Wales on New York's upper west side (see Unique Hotels below), there are numerous boutique hotels out there for every taste.
Ian Schrager Hotels:
Ian Schrager, of Studio 54 fame, pioneered the modern boutique hotel phenomenon in the early eighties with the renovated Morgans Hotel in midtown Manhattan. For information on the Morgans and Schrager's other properties call 212-764-5500.
The Kimpton Group
Hotel Triton
342 Grant Ave
San Francisco, CA 94108
800-433-6611
One of 24 properties run by the San Francisco-based Kimptom Group. For complete list of their hotels, visit their Web site at www.kimptongroup.com.
Unique Hotels and Resorts
Unique runs a half dozen or so boutique hotels in New York, California and the Caribbean. For information and reservations, contact Unique toll free at 877-847-4444 or visit their Web site at uniquehotels.com.