Traveling the Underground Railroad:
An Interview with Anthony Cohen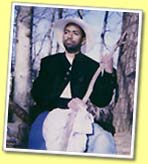 This year, as we commemorate Dr. Martin Luther King Jr. Day, it's important to remember that it was not until after the Civil War that African Americans were allowed to travel freely in many parts of this country. But the desire for freedom was so strong that many slaves risked their lives to find freedom in the North.
They traveled along a series of trails known as the Underground Railroad - a secret network set up by abolitionists to help slaves escape to free states and Canada. The National Park Service estimates that more than 100,000 slaves gained their freedom on this route. Historian Anthony Cohen gained a sense of what the trip to the North may have been like after he followed an Underground Railroad route from Memphis to Canada.
Tune in Monday, January 18 for an audio clip of this interview and find out how Anthony prepared for this introspective journey.
For More Information
History America Tours
P.O. Box 797687
Dallas, TX 75379
Toll-Free: 800-628-8542
Phone: 972-713-7171
Fax: 972-713-7173
email: historyamerica@airmail.net
http://commercial.visi.net/historyamerica

Yahoo's listing for Historical Tours

Historic Tours of America
Offering historic tours of Boston, Key West, San Diego, Savannah, and Washington D.C.
Cultural Kingdoms
Have you ever dreamed of living like a Lord in a magnificent castle or of travelling back in time to savor different eras in Britain's great cultural evolution?
Historical Cycling International
Historical Cycling International is a bicycle touring company that specializes in discovering Jewish culture and artistic history around the globe, including Provence, Tuscany, the Czech Republic and Mississippi.
France Travel and Tourism: Historical Tour Operator List
Extensive list of organizations and companies devoted to arranging historical tours of France.
Geographic Expedition's Cultural Tours of India
Including Himalayan Highlands, Journey To Ladakh, and From Taj To Tiger. Also available are various special interest tours, or trekking tours.