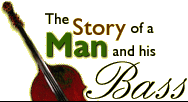 The Story of a Man and his Bass
By Russ Thibeault
Dear Rudy:
For the past 20 years I've traveled alone. Unfettered...a paperback my only carry-on.
But my travel routine changed radically on a recent cross-country flight to visit my son, Matt, in California. "Hey dad," he said, "can you bring my upright string bass with you?"
"Sure," I said, "no Problem."
Wrong!
A string bass, you see, is as fragile as a violin and as bulky as an NFL linebacker. Not the kind of thing you can entrust to the airline baggage gorillas. Gotta get a ticket for it.
So, my adventure in flying stupidity started with a call to the airline. I got Brenda, who wasn't very musical.
"String bass," she said. "Is that like a trombone? I see trombone on my list -- you can also bring a saxophone or cello, but nothing about a string bass, here."
I said OK, call it a cello. I told her they were the same thing. I lied. I was desperate.
I figured the ticket would be about half my $250 round trip fare. After all, the bass wouldn't need a snack or be checking any baggage.
Wrong.
"OK," said Brenda, "same flight as you, let's see, that'll be $945 for a one way ticket." Nearly four times what I was paying for my round trip!
And here's where you come in, Rudy. Remember how you always recommend buying a round trip ticket, even if you're only going one way? Well, it works. Even for a bass! I ended up with a $350 nontransferable round trip ticket in the name of "Bob LaBass." So, now, if he chooses to, "Bob LaBass" can fly the return leg from San Fran to Boston on December 18. Provided he gets a photo ID.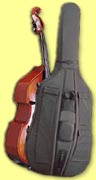 On the day of the flight I confidently approached the ticket counter with Bob LaBass, neatly attired in his trendy black canvas case. I thought we were all set
Wrong!
The ticket agent stepped back, arms crossed tightly, his scowl alternating between Bob LaBass and me.
"It's a cello," I said.
"No it isn't," he retorted. "That's a bass. An upright string bass."
"OK, but it's not baggage. I have a ticket for it."
"Doesn't matter. The plane's small and the flight's full. It won't fit. A cello would fit. But not an upright bass. I'll check it through as baggage."
I pictured $8,000 worth of string bass reduced to kindling.
I told him we'd take our chances with the seats. There's gotta be a way.
As he handed me two boarding passes I figured we were all set.
Wrong.
We were still 25 feet away from the security gate when the guard shouted "Hey! Hold it right there!" reaching for his stun gun with one hand and walkie talkie with the other.
"It's a cello," I said.
He said, "Cello? No way!"
I said, "OK, it's a string bass."
He still didn't buy it.
He said, "Open it up."
After about 10 minutes of peering into Bob's innards, he relented. "Go ahead. There's no way it'll fit on the plane, anyway. You'll be back in a minute."
Strolling down the jetway, I figured we were all set.
Wrong!
Boarding the plane, I hoisted Bob LaBass over my head, wondering why my son couldn't have chosen the clarinet, like I did. By aisle three I was getting pretty sick of hearing "Heh, heh, heh! That's pretty big for a carry-on."
Winded, I finally arrived at our seats, in the next to last row. The stewardess and I tried sticking the fat part down. The fat part up. The fat part facing the window. We finally found a way with his neck down, and the fat part cantilevered from the floor to right in front of my seat. One inch from my nose Each tiny bump caused Bob LaBass to jog back a half inch. And my head to jog forward a half inch. My nose was as hard and flat as the bass by the time we got to San Francisco.
My son was waiting for us at the gate with an ear-to-ear grin. "Thanks dad, I never thought you'd pull it off. Do you know a string bass is too big to fly on a plane? A cello's the biggest thing they allow."
What could I do, but smile? "Just don't take up the piano."
Russ Thibeault is President of Applied Economic Research, an economic and real estate consulting firm in Laconia, New Hampshire. His bass playing son, Matt, teaches music in the Portola Valley, California school system.