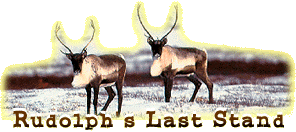 Rudolph's Last Stand
Portrait of a day of reindeer herding
by Doug Lansky
Dear Rudy,
I never managed to catch a glimpse of Rudolph the Red-Nosed Reindeer while I was above the arctic circle in Sweden. But I may have inadvertently eaten him.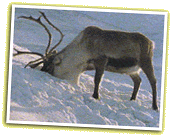 I was working for reindeer herder Nils Nutti, a Sami (the PC term for Lapplander). Nils makes his living selling reindeer. You see, fruits and vegetables aren't easy to come by when the snow is six feet deep. So on a typical day breakfast was reindeer jerky. Lunch was fried reindeer fillet. Dinner...reindeer jerky again.
But I digress...back to the reindeer. Not only was I eating them, I was also lassoing them! I learned how to throw a rope around their necks, then hold on while a bounding reindeer dragged me across the snow-covered field on my stomach. Although usually they'd see me coming and stampede to the other side of the ranch.
Nils, doesn't have much human contact--he lives thirty-five minutes by snowmobile from the nearest road, which is then over an hour by car from the nearest town. So he knows each of his three hundred reindeer as if they were his own children, although only a few get names. Not "Donner" or "Blitzen," but "Big Dark One with Broken Antlers" and "Small White One with No Horns."
I felt weird about herding and eating reindeer. There's nothing wrong with the taste. It just didn't seem right. Not only had I seen the Rudolph Christmas special about fifteen times, I had had the very personal, Rudolph-bonding experience, during my high-school years, of living with a series of monstrous, glowing red zits on the end of my nose.
But I was determined to have a "when in Rome" attitude. Especially after seeing the tourists who visit Nils' arctic ranch. The first tour I witnessed consisted of five Indian travel agents from New Delhi. When they arrived by snowmobile, the two strict vegetarians were horrified when Nils fried up some reindeer fillets.
Then another group from England showed up and just for fun I borrowed some of Nils's reindeer boots, strapped a reindeer lasso around my chest, and Nils told the tourists I was his cousin, a professional reindeer herder who couldn't speak English. They posed for pictures with me (and talked about how quaint I was). My first experience as a tourist attraction.
So, in the end, I sort of became one of the locals and learned to love the taste of reindeer. And since I never spotted any glowing red noses or reindeer launching themselves into the sky, I'm sure Santa will forgive me this Christmas...right?
[ Features Index ]