A Nostalgic Look At Airline Travel
by Norman Corwin
Dear Rudy,
First are special -- firstborn, first steps, first impressions, first place, first love, first night, first flight.
This is about first flight. My own, not the Wright Brothers.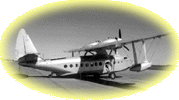 The year was 1940. Nylon stockings had just come in. A new Nash sedan cost $795. The Supreme Court ruled it was OK to play recordings on the radio. The song You Are My Sunshine was a big hit. In Washington State the Tacoma bridge, rocked by high winds, fell into Puget Sound. At New York's LaGuardia airport, the twin-engine Mercury, pride of American Airlines, took off daily at five p.m. for California, with the object of arriving in Burbank, weather permitting, at 8:34 the next morning.
One day in June, 1940, I was on it.
The Mercury, named for the god with winged feet, was known as a DST, for Douglas Sleeper Transport. It had 14 seats that converted to sleeping berths, a practical measure because the flight took all night, and it carried people, not cattle. It was unthinkable that a paying passenger would sit up beyond midnight, through the small hours to well after dawn, when he could be lying in pajamas behind a curtain, stretched out flat as a flounder, sleeping under a blanket.
The day before I left I mentioned to a friend I was going to fly to California, and he asked how long it would take. "Only 18 and a half hours," I told him. His jaw dropped in disbelief. Up to then, the fastest time between coasts had been four days, and that only on crack trains. The phenomenon of streaking across the country by air was still so novel that, like other stunning innovations such as the ball point pen and night baseball, it made dinner conversation.
Came departure. Belts fastened. Seat backs upright. The ritual of revving first one engine, then the other. An interval of noisy waiting, and then a nod from the tower to taxi to the takeoff point, turn our nose into the wind, sniff it for a moment, and GO. And we WENT. The ground dropped away; the city shrank; we climbed, gathering power until we reached the incredible cruising speed of 140mph.
In those days there were no nonstop flights across the country. Planes had to land to refuel. Our first stop was Nashville; the second, around midnight, was Dallas; the third, getting toward morning, was Tuscon. Light was just beginning to break when I got my first glimpse of The West from the little window of my berth, a fleeting panorama of mountains around the city.
Soon it was time to rise and dine. This involved the gymnastics of getting out of my berth and pajamas and into clothes, thence to the mirror of a toilet designed for dwarfs, to shave off my overnight beard, after which I returned to a now restored seat and, presently, a breakfast tray. Before coffee we were crossing the Colorado, and in less than n hour we were banking and letting down for a landing at Lockheed, then the only airport in Los Angeles.
Having flown west on film business, I was met by my agent and two executives, all three dressed in standard business suits. I was never very fashion-conscious, but I noticed that each was wearing loafers instead of laced shoes. In all my years in the starchy East I had never seen such a thing. right away I knew I was in a bizarre, exotic country.
Travel is broadening.
From Los Angeles, this is Normal Corwin for The Savvy Traveler.
[ Features Index ]