Now that the tobacco companies have settled with the government, it's apparent that anti-smoking advocates are finally having their day. The first smoking bans took effect on airplanes, then airports, then restaurants and now even bars. For most people it's a relief to be in a smoke-free environnment, and I don't think anyone would argue that it's a lot more healthy. But consider for a moment the smoker . . .
Postcard from the Smokers' Lounge
by Mark Glass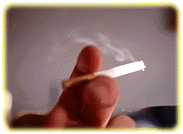 Dear Rudy,
It's hard not to smoke at airports. You know you're about to be deprived once you board, and current practice requires arrival roughly seven hours before takeoff. So to me and others of my ilk, a pre-takeoff smoke is a necessity, and getting harder and harder to do. The Surgeon General's set of package warnings should include, "Cigarette smoking may force you to freeze your buns off," since airports in climates known for harsh climates, such as Chicago and Minneapolis, banish you to the vagaries of nature. On the other hand, gale-force winds outside O'Hare burn your cigarettes much faster, allowing fewer puffs per smoke. Pneumonia now, emphysema later.
Those who argue for California to be divided into separate north-south states will find that airport policy in the major cities supports this concept. In L.A., the kindly authorities provide charming little smoking gardens close to the gates. One may indulge outside in the California sun, sitting on benches amid tropical greenery. Periodically, the planes' engines muffle the hacking coughs, and with proper timing one can still sound almost healthy.
San Francisco gives two choices. One is to stand outside the terminal and risk being pelted with tofu and arugula by health nuts in Spandex. Or you can enter an opaque glass chamber bereft of ventilation: less a smoking area than a mercy killing. When you open the door enough smoke spews forth to make some people think a new pope has been elected.
Atlanta and my home airport in St. Louis favor a clear glass chamber in which we sit facing the concourse, feeling an eerie kinship with zoo animals on display. Parents walking by can point and tell their children about the endangered species inhaling the acceleration of their demise. On the plus side, there is an instant camaraderie with my fellow pariahs as we huddle together in our designated area.
I hope more airports will build us these humane micro-environments. Until they do, I ask you non-smokers to treat us kindly. Maybe one of us will teach you the secret handshake.
Your friend,
Mark
Mark Glass is an attorney who lives and smokes in St. Louis.
[ Features Index ]