If you've ever traveled the backroads of the American West, you have probably seen a solitary figure on foot or horseback, trailing after a band of sheep. Have you ever wondered where those sheep are going? And what about the life of that herder? Sheepherding is one of the world's oldest professions, little changed since Biblical times. Until, that is, the old West and the new West come face to face.

Today, The Open Road's Hal Cannon and Teresa Jordan take us to one of America's great ski resorts and celebrity hide-outs, Sun Valley, Idaho, where they will partake in the "Trailing of the Sheep." This event is a two-day festival designed to re-connect Sun Valley with its historical roots. Earlier in this century, more lamb was shipped out of here than anywhere else in America.
The Open Road: The Loneliest Place
By By Hal Cannon and Teresa Jordan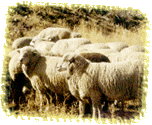 Hal: We are on the edge of Ketchum, the town that borders Sun Valley Resort. We're surrounded by multi-million dollar homes and a perfectly manicured golf course. My wife Teresa and I wait on the side of the road with Denny Burks who looks nervous. His eyes are glued to a hilltop high above the town. He's looking for sheep
Denny Burks: Come on sheep!!!! Dags!
Teresa: Denny Burks manages the Flat Top Sheep operation, a job his father held before him and his grandfather before that. Every year at this time, the sheep move from summer pasture to winter ground; in the old days, they used to trail right through the center of town, and this year's festival seeks to re-establish that tradition. Denny Burks knows sheep, which, come to think of it, is why he is jittery today. He has promised the Chamber of Commerce that 1500 head will mob main street at 9 this morning and the whole town has turned out to watch. But it's 9:15, and the sheep are nowhere in sight.
Teresa: So do you think those sheep are wearing their Woolex watches?

Denny: No. That's what's got me troubled.

Teresa: And then, over the rise of the hill.

Denny: They're right there. Thank God for small favors!
Teresa: The flock of sheep covers the steep hill like a huge woolly blanket. Majestic white Pyrennese guard dogs lead the way down, and border collies push from behind, scurrying back and forth to the commands of the lone sheepherder who follows on horse back, bringing a bit of history to this jet set community.
Denny: Now folks it's alright to stand on the grass, but the sheep are going to come across here, and we don't want everybody stoppin' them.
Hal: The sheep are fat and woolly from a good summer in the mountains and they seem happy to be launched on this week-long trek that will take them down the Wood River Valley and then over the hills to the home ranch. They move quietly but swiftly -- we almost have to trot to keep up -- and they don't seem at all worried by the crowds of people who have lined this street to watch them.
Teresa: A bagpiper in kilt and full Scottish regalia has joined the procession, leading it along this historic main street that now sports high-end boutiques and stylish restaurants. There's a great turn out today, groups of handsomely dressed older people, enthusiastic tourists and gaggles of school children.
Hal: At their brisk pace, the sheep move through town in minutes. Before we know it the street sweepers have removed all ovine organic souvenirs with amazing efficiency. In a flash traffic, commerce, and life in this mountain resort are back to normal. But people remain on the streets edge, a glow on their faces:
"This is a wonderful thing and it's great for the community."

"This is definitely the social event of the season."

"We've lost so much of our heritage and this is not an inconvenience for traffic."

"It's a fun part of life in Ketchum."
Teresa: Today's festival is the brainchild of John and Diane Peavey, who own the Flat Top Sheep Company. For years they have watched Sun Valley grow into a posh resort community increasingly divorced from the area's past. This fall, they thought: why not turn the annual task of moving the sheep from summer pasture to winter ground into both a celebration and a history lesson? John has brought 15 school kids along for the day's herding, and their education continues as the sheep head out of town.
John: They've learned to count sheep...you count sheep by two, right Alexis?

Alexis: Yeah, then when you get to 50 you say 100.

John: Then somebody marks it on a tallystick.

Teresa: Do any of you want to be sheepherders?

Alexis: I was thinking about it...but then I decided I'd rather be in the Olympics. Then when I retire, I'll come back and be a sheepherder.
Hal: The sheep will continue on their trek to the home ranch for several more days, but the official festival ends tonight. "The Trailing of the Sheep" has been a great success for the town and folks head to local restaurants to eat Idaho lamb. The next morning, Teresa has to get home for work, but I'm still not satisfied. I've seen the public life of sheep, but I need to know more...and I'm especially curious about the men who tend these flocks. I ask Denny Burks if I can accompany him as the drive continues.
Hal: It's early the next morning as we creep up a steep dirt trail in Denny's 4-wheel-drive pickup.
Hal: Where we going, Denny?

Denny: This is called Parker Gulch...three miles out of Sun Valley. We're going up to this sheepcamp...hook up to it and move it to a new location.
Hal: We're heading to the spot where a herder and his flock spent the night. He lives in what is called a sheepcamp, a traditional nomadic home that looks like a simple covered wagon. The herder stays with his flock, guiding them to fresh forage; he left camp at daybreak and will move with the sheep all day. We're picking up his camp, and moving it to where he will bed down tonight. Yesterday, as we marched through town, sheepherding seemed downright social. But today we are far from the madding crowd. The road is god awful.
Denny: This is way better than it was before.

Hal: No!
Hal: After shifting into four-wheel drive, we bounce and crash along until we come to a fine grassy meadow with a beautiful stream lined by a grove of aspen glowing gold and orange in the sharp autumn light. It's a pastoral scene, and its hard to a imagine that a resort town thrives just a few miles away. The sheep camp looks like a relic of another era. In fact, its a marvel of efficiency, a self-contained home that measures only 6 by 16 feet.
Denny: The have a wood burning stove, shelves, fold down table, a "full-size bed."

Hal: So in this camp it's really like an old style covered wagon.

Denny: It's really no different at all. You take that aluminum cover off, throw the canvas over it, and you're back where you were in the turn of the century.
Hal: These accommodations are spare, to say the least, and the sort of men who live in these wagons have changed over the years. Early in the century, they were mostly southern boys. Then, for decades, Basques came across from the Pyrrenies to tend the sheep. Now, Peruvians have taken over. They come on three year contracts, and they come out of necessity.
Denny: These guys when they come from Peru. A lot of them are literally hungry. It's that tough. I can see it in their faces.
Hal: These men come for work. And with a warm place to sleep and all the food they want they are able to send almost every penny they earn back to their families in South America. But it is a lonely life. The herders are spread out over hundreds and hundreds of square miles, each man alone with his band of up to 2000 sheep.
Hal: Denny asks me to help him hitch the sheep camp to his pickup.
Hal: About a foot...8 inches...OK...we got her.
Hal: It's mid day now, and the herd is miles ahead of us. Since the herder always moves ahead of his wagon, it's rare for anyone to actually ride in one of these contraptions, but I can't pass up the chance as Denny pulls the camp to the next site.
Hal: Bouncing along in this old sheepcamp...we got the dishes clanging and an old calendar rocking...old talon swaying...and the window looks like it's gonna fall out. It's held on with masking tape. This camp is 100 years old, and it's still a serviceable traveling home for these shepherds.
Hal: We are now climbing out of a canyon to a high mountain ridge with a sweeping view. We see a white band of sheep and drive to where Marcello Kaento is tending his flock, guard dogs and herding dogs working along side. He recognizes our truck.
Hal: Denny knows exactly where to set-up camp. He chooses a site with a good view of the flock, water for the stock, and level ground. Denny Burks is the lifeline for these herders, often the camp tender is the only person they see for weeks at a time. Today he has brought Marcello groceries, hay for his horse and food for his dogs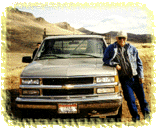 Hal: He brings drinking water which he siphons into the herder's barrel. He even delivers the mail and today something special has come for Marcello Kaento, a letter and tape cassette from Peru. Today this solitary herder will hear the voices of his family.
Hal: Do you have a wife?

Marcello: Yeah

Hal: Children?

Marcello: Three children.

Hal: You support them by supporting them and sending money to them.

Marcelllo: Yes.
Hal: Marcello Kaento has been in this country for seven years. He has herded in Nevada, Colorado, Montana, California and now Idaho. I sense he's starved for companionship but after a few minutes of mostly ineffective gestures and a smattering of English and Spanish words, our eyes meet and we revert to the universal language of song. I sing of my home in Nevada and he sings about his life with the herd, all the time grasping the letter from home in his hand.
Hal: "I am running among my sheep," he sings, "into the snow and the driving wind. Herding my sheep in this country, I am lonely and sad..."
Hal: Thank-you very much.

Marcello: You're welcome.
Hal: As we leave this sheep camp, this band of sheep, this herder named Marcello Kaento, we say good-bye and drive off the mountain for home. Denny and I don't talk much on the way down, and I keep thinking about that word in Marcello's song: triste, sadness. After awhile we stop in another stunning meadow and I ask Denny about the loneliness of sheep herders.
Denny: Some years ago we brought a young Peruvian out. We had been out on went the desert for two weeks and everything was in disarray. I asked the camptender that same question, and he said I want to go home, Mr. Denny. I said, what's the matter? Then he literally had tears in his eyes and said, I don't want to die on this desert.
From the loneliest place on the Open Road, I'm Hal Cannon with Teresa Jordan for The Savvy Traveler.
[ Features Index ]