Most of us have memories of family vacations with our parents -- many of them probably very happy. But could you cope with them on your travels now that you're an adult? That's the challenge Martin Stott set himself -- and just to make it even harder he took them to Norfolk on England's east coast -- recently billed by the English press as the most boring place in Britain. Here's his vacation diary.
Greetings from Purgatory
By Martin Stott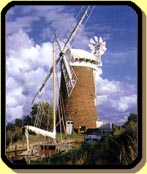 The most boring parents in the world in one of the most boring places in the world! Savvy Traveler purgatory! This is the small town of Sheringham on the Norfolk coast -- Mum and Dad want to retire here. I'm treating them to a week in a cottage -- our first vacation together for years.
A predictable start -- Mum and Dad are Salvation Army officers -- so we have to attend Sunday morning church roll call. On the oak paneling at the front of the hall four words in huge gold letters greet us:
Come with thy Sin!
Is dreading the week ahead a sin? Probably comes under the category "father and mother, dishonoring thereof."
I'm bored already. And the weather doesn't help.
I've always complained about how mean and tight-fisted my Dad is and now I've discovered I'm just the same. One of the reasons why this holiday cottage, which is very pleasant, only costs $250 for a week is because it's off-season and now I know why. No one comes here off season -- it's freezing! It's wet; it's windy; and this is the North Sea, black and menacing that you can hear crashing at our feet on the beach front.
Fortunately the weather eases off eventually and we start to travel. We find a mustard museum and a working windmill. Worryingly we have fun together. At the small village of Holt we find loads of antique shops.
It's a wind-up gramophone record from the 1920s. Mum says she used to have one. We obviously have the same tastes -- then I discover something else we have in common too. It seems I now look like her too. Strangers keep saying: "You must be Joyce Stott's son." More discoveries follow.
One of my favorite holiday games in Britain is church spotting -- you find a church walk inside and out, then you decide what bit was built in which century. Only afterwards can you test your guesses against the guidebook. It seems Dad plays the same game.
"That was an earlier church, I think, that originally served the monastery here."
"Wow, so these are the remains."
"It's almost like it's been bombed, isn't it, that's how you'd describe it."
"Yes and the remains are very obviously the remains of the original chancel and part of the original church."
These are the ruins of a large monastery we found in Weybourne. Norfolk villages are full of wonderful 14th and 15th century church buildings. Dad and I have a great afternoon visiting some. Mark Twain once wrote:
"When I was a boy of 14 my father was so ignorant I could hardly stand to have him around. But when I got to be 21 I was astonished at how much the old man had learnt in 7 years."
It seems my old man ain't as ignorant as he used to be either! He certainly knows his churches. He's the same about railways. When we were kids he worked in the toy business, manufacturing model steam engine kits. Vacations were also business trips and the hours we spent listening to him droning on!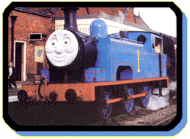 "Yup, here he is in Sheringham's model railway shop, still at it. But look what's outside!"
This is amazing. The shop's on a station platform of the North Norfolk Steam Railway and they let us have a ride on the footplate of a real train. When he retires Dad says he's going to join the society here and become a guard.
"That'll be brilliant. We'd be able to get free rides all the time!"
Later that day Mum reveals her retirement plans too.
Blow her arthritic hips and dodgy knees, she's going to swap her tambourine and bonnet for a pair of cowboy boots and join the local line dancing club!
Boring Norfolk, boring mum and dad -- baloney! But I'm still shocked at how I'm beginning to turn into my parents. It's scary. But there you go. Sometimes when you travel you learn as much about yourself as the place you're visiting.
From the seaside at Sheringham in Norfolk, this is Martin Stott for the Savvy Traveler.
[ Features Index ]