Europe has always been a favorite destination for Americans on the move. Most people head for London, Paris, Rome and other cities that are far away and yet familiar to our culture. The Savvy Traveler's Judie Fein visited a European town in a European country that most of us have never even hear about.
Ptuj: An exotic blend to savor
By Judith Fein
Before I tell you about the city I am visiting, I'd like to give you a little pronunciation guide. Purse your lips and make a spitting sound like this: "Ptoooie." That's the name. It's spelled P-T-U-J, but it's pronounced "Ptooie," and it is in Slovenia, the northwestern part of the former Yugoslavia. It is an up-and-coming tourist destination and you can be the first person on your block, your neighborhood, or even your city to drop, or spit the name. Ptuj has a 22-century-long history of settlement which can be summed up as follows: tribal, Celtic, Roman, German, Hungarian, Yugoslavian. The result is an unusually rich and exotic soup which culture-oriented tourists can savor.
Take the Slovenian men who come barreling down the streets of Ptuj dressed in huge, frightening costumes with cowbells around their waists. They're called Kurents and what they're doing is an old tribal custom. I've never seen Bigfoot, but if he had a white, wooly body and a birdlike beak, this is how I imagine he would look. The mysterious Kurents make their annual appearance in February, and their cacophonous sound is supposed to chase winter away.
When it comes to live performances, Ptuj has some pretty unique indoor and outdoor settings--ancient ruins, bridges, granaries, moats and monuments. In a medieval castle, a woman in a long tunic performs an old Slovenian tune on a small water drum, which is tucked under her arm. She pulls a stick in and out of the drum, producing exotic sounds from Ptuj's past.
Ptuj's past also comes alive when we visit one of the three shrines of the secret, ancient Mithraic religion, which once rivaled Christianity in importance. Our guide unlocks a plain wooden door, and we enter a world of mystery. On the walls, friezes depict the story of the god Mithra. In the center of the room, stone pillars, all in a row, lead to a large stone altar to the Mithra faith.
Guide: "It was an old Persian religion. It was a religion for men, and women were excluded. People were prohibited to write or talk about it."
It is easy to imagine men performing their hidden rites here. The guide says this is one of the most evocative and important Mithraic shrines.
Guide: "This is the biggest one in central Europe. It was built by soldiers in the middle of the 3rd century A.D."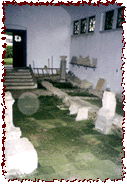 As the 20th century draws to a close, Miha Pogacnik, the cultural minister of Slovenia, is combining the past and the present to put his country on the international cultural map. Miha is a concert violinist and, during our visit, he organizes a visionary musical event in a crumbling medieval castle. Visitors from all over the world sit in the great hall and learn about music as Miha illustrates passages from a Brahms concerto on his violin.
After we have become more musically attuned, the Slovenian radio symphony orchestra arrives. We are invited to sit next to the musicians as they play the Brahms concerto. We are inside the orchestra, sharing the orchestral experience, as though we ourselves were the musicians. It is an unforgettable experience.
In addition to the Ptuj music and castle circuit, you can roam the cobble stone streets, soak in the thermal baths, shop, eat at indoor and outdoor restaurants, and watch the sun go down over the river. Spending money in tolars is a pleasure because the pastel-colored currency is gorgeously designed by a Slovenian artist.
In case your travel agent has never heard of Ptuj, tell her you can fly to Graz, Austria or Zagreb, Croatia to get there. Or you can do as we did, and drive there as part of your European car trip.
When you come back to America, you'll be the toast of every cocktail party as you spit out the name of this charming, exotic Slovenian city.
[ Features Index ]