What's your idea of a perfect vacation? Seven straight days of peace and quiet on a beach? Golf in the morning, followed by an afternoon snooze in a hammock? Or are you the type who likes to keep busy on your time off, maybe even learn a thing or two? If that's the case, then you might consider going on an Earthwatch expedition. This non-profit organization hooks up paying volunteers with scientists conducting research in various far-flung corners of the globe for two weeks of intensive field work. You don't have to have a scientific background to qualify...only a sense of curiosity and adventure. The Savvy Traveler's Tom Verde fit that description and recently spent two weeks on one of the most popular Earthwatch expeditions, an archaeological dig on the Mediterranean island of Mallorca.
Volunteer Vacations
By Tom Verde

A "Talaiot," which is a prehistoric council chamber near the settlement of Oleza.

The Romans called them the Iberians, the ancient race that first inhabited this 1400 square-mile island off the coast of Spain some seven thousand years ago. Today, Mallorca and its sister islands, Minorca and Ibiza, are collectively known as the Balearics, a name derived from the Greek, balein, meaning to hurl from a sling, a deadly skill for which these islanders became known throughout the ancient world.

But when they weren't defending their home against invaders, Mallorca's earliest inhabitants were busy farming and raising goats and cattle in the rugged hills of this mountainous island, in much the same way that many landowners still do today.

Though these ancient people left no written record, their legacy of pottery and massive stone temples and living complexes has provided archaeologists with enough evidence to piece together what life must have been like here during the Copper Age, more than 2000 years before the birth of Christ.
Waldren: Okay, this is the prehistoric sanctuary of Son Mas, a site which covers two thousand, two hundred years of ritual activity.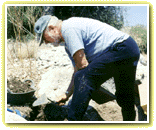 Dr. Bill Waldren, doing what he does best.

Dr. Bill Waldren of Oxford University has been excavating prehistoric sites throughout the Balearic islands for more than thirty years. A gruff and garrulous Hemingway look-alike, the seventy-four year old Waldren ended up on Mallorca in the early sixties as an archaeologist's assistant. The climate and the profession appealed to him and through a combination of intuition, determination and just plain luck, he made several important discoveries which led to grants from the Smithsonian, National Geographic and others.
Waldren: This was the first site we excavated, and the first site we were working when I discovered the old settlement. All that material that you see there, all those rocks and that earth that you see there is all stuff that was excavated by Earthwatchers.
In 1974 Waldren welcomed his first group of volunteers from a fledgling organization later known as Earthwatch. Since that time he says he could never have accomplished all he has...including a Ph.D. from and faculty appointment at Oxford...without the elbow grease of thousands of Earthwatchers over the years.
Waldren: Oh my God, just in the sheer labor alone -- everything that we have done here in the past twenty-three years is really basically an Earthwatch legacy.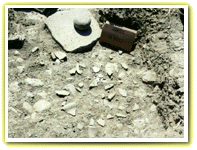 A 'spread' of ancient pottery. Grindstone in rear.

Waldren's work on Mallorca is just one of more than 130 projects in 50 countries around the globe sponsored in part by Earthwatch. There's really something for everyone, from dinosaur digs in the American west to elephant tracking in Botswana to saving the rain forests of Borneo. The way it works is this: so-called volunteers pay anywhere from $650 to $3700, plus airfare, to spend two weeks in some remote region of the planet working alongside some of the world's leading researchers.

A good chunk of that fee, which, by the way, is tax deductible, goes to Earthwatch to cover its administrative costs. Another chunk is donated to the projects themselves while the rest pays for your room and board which varies from site to site. Some Earthwatchers camp out in tents deep in the bush with no electricity or running water. Others stay in makeshift field station dormitories, while still others might end up in comfortable B & B's or hotels.

On Mallorca, we stayed in Waldren's home...a multi-tiered, amorphous stucco dwelling built into a hillside in Deia, a remote village on the island's northwest coast. The setting is idyllic: groves of lemon and olive trees cling to the terraced hillsides rising 3000 feet above the warm, inviting turquoise waters of the Mediterranean. Fountains of purple morning glories cascade over ancient stone walls, while sheep and donkeys graze idley on vast fincas, estates that have been in the same aristocratic families since the 13th century. It's easy to understand why this particular project has been nicknamed the Club Med of Earthwatch expeditions

But of course we were there to work, and work we did, for about three hours each morning in the field, using picks, trowels, brushes, and in some cases dental tools in search of artifacts in the dry, crumbly earth.
Waldren: Excavation is basically nothing but good housekeeping, believe me. So keep your trench neat. You've also got brushes, if you're in doubt at any time and you wanna see what's in the next level before you dig into it, you do this with it [he brushes].

Ruins of the prehistoric temple of Son Mas.

We spent the first couple of days gathering soil samples at San Oleza, a Copper Age settlement dating back to the 3rd century B.C. Waldren hopes to use these samples to determine the location of a corral at the site, which will help him learn more about the lifestyle of the people who lived here four thousand years ago.

The rest of our stay we rummaged through the ruins of the temple of Son Mas, an extremely prolific site where we dug up everything from prehistoric pottery shards to Roman nails, coins and other treasures.
Waldren: Uh, you're gonna find little pieces of Roman glass, small pieces of Roman glass, so keep your eyes open, for that.
We spent the afternoons sorting, weighing and scrubbing our booty beneath the shade of beach umbrellas on a rooftop lab back at Waldren's house. This was perhaps the dullest part of the day. Indiana Jones it ain't, but, as I learned during Waldren's unavoidable "Everything you did or did not want to know about a pottery sherd" lecture, you can actually tell quite a bit from a busted water jug.
Waldren: The imported pottery is very interesting, because some of it comes from different parts of the Mediterranean, meaning that they had trade in here that came in from all directions -- as far away as the Black Sea, a long way.
Some in our group were already familiar with such things as well as Earthwatch. This was the second Earthwatch expedition for Wisconsin native Dick Mason, an electrician by trade and archaeologist by hobby.
Mason: If you just read about archaeology, it's probably one of the most boring things in the world, but to get your hands on it -- it's exciting if you find stuff.
There were also a handful of secondary school teachers, like Mary Kay Natho of Taunton, Massachusetts, who hoped to take what they learned in the field back into the classroom.
Natho: I think it would be kind of neat to meter off certain areas and have the kids sort of do their own little dig -- putting in different types of artifacts that I might think of and have the kids come up with some creative ideas about thinking about what early man was like.
Then, there were some high-spirited teenagers, like Lauren Bliss, whose interests leaned more towards biology than archaeology.
Verde: If you had to sum up this trip -- what was the best thing about it?

Bliss: Spanish guys in general are hot, so that was great. There's one that's really cute.
Whatever their individual motivations, Earthwatchers in general, says Waldren, often share many common characteristics.
Waldren: They're normally educated people, they're sensitive people, sensitive to their environment, they don't want to spend their time doing something that's banal and meaningless like laying on a beach or something like that, but they want to be able to contribute some way.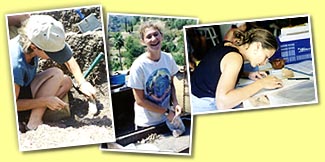 Left: Unearthing delicate artifacts at the temple of Son Mas.
Middle: Some laughs during lab time.
Right: Afterwards in the lab, documenting the morning's discoveries.

So, even if you've already been all that you can be and it's not the toughest job you'll ever love, an Earthwatch expedition is bound to be one of the most memorable vacations you'll ever have.

Off the coast of Spain on the island of Mallorca, I'm Tom Verde for the Savvy Traveler




For more information:

For more information on Earthwatch and to get a look at their online catalogue of expeditions, visit their web site at http://www.earthwatch.org, or call or write them at:

Earthwatch Institute
680 Mt. Auburn Street
Box 9104, Watertown, MA 02471
PH: 617-926-8200
800-776-0188 (from U.S. & Canada)
FAX: 617-926-8532

For information on similar volunteer vacations/travel opportunities, visit Infoseek's Vacation Ideas site at http://www3.infoseek.com/Sports/Travel/Vacation_ideas/. This Web site lists all the major volunteer organizations. It also ranks them and provides links to each.

Another source is Transitions Abroad, a publication that comes out every two months. You can get a copy at a good newsstand or by calling 800 293-0373. They also publish a comprehensive guide to working abroad called Work Abroad. A good part of the guide talks about volunteer vacations.

Transatlantic and domestic air transportation courtesy of Iberia Airlines. For tickets, reservations and information contact 1-800-772 4642 or visit their web page at www.iberia.com.

For information on Mallorca and visiting Spain, contact the Tourist office of Spain at 1-888-OK SPAIN or visit their web page at http://www.okspain.org.

Transportation on Mallorca courtesy of Auto Europe at (800) 223-5555. Worldwide car rental services at competitive rates. Excellent customer service.

[ Features Index ]