If you're the type who loves Halloween, who lives for scary movies and haunted houses, then you should think about traveling to a place with very spooky possibilities... London. That's where The Savvy Traveler's Martin Stott discovered, you could come across any number of bloody, decapitated ghosts stalking the night.
Meet the Ghosts of London
By Martin Stott

Back in Tudor England, it seems it was quite easy to lose your head--literally.
Good old Henry VIII waved off two wives at the chopping block--so much simpler than divorce and saves on attorney bills don't you think? One of his favorite London palaces was the spectacular Hampton Court...here his fifth wife, the young Catherine Howard, was imprisoned before being taken away for execution. That was nearly 500 years ago, but our guide Lucy says the memory lingers on. As we stand in the wood paneled haunted gallery she tells Catherine's story.
LUCY: "She was locked up within her private apartments within the palace, which are at the other end of the gallery we're in. It is said that she tried to escape. She was stopped and dragged back to her room screaming and it's said her screams can be heard echoing along this gallery.

STOTT: And have you ever heard them?

LUCY: No, I have to say I haven't, but other people do report that they feel things like a cold wind. What I have experienced is doors opening for no apparent reason--there's no breeze or anything and the door suddenly swings and you think, what's that?"
Lucy, by the way, is dressed in the most fantastic luscious purple Tudor dress (authentic right down to the underwear, she whispers). Catherine Howard is just one of several ghosts at Hampton Court and if you're feeling brave over the next couple of months you might meet a few of them. Special lantern-lit evening tours are being held, until Christmas (with a cookery demonstration and Tudor nibbles thrown in as a treat). Now if that sounds like too much fun, don't worry, we're just starting....
The Tower of London is where all the best heads rolled...Walter Raleigh's, Anne Boleyn's and Catherine Howard's. David Cope is one of the Towers' famous Beefeaters--he's keeper of the ravens that live here...
Legend says if they ever leave the Tower the monarchy will fall--so David clips their wings every week! It was on the stone steps by the Raleigh tower that he met his first ghost while out walking his dogs one night.
BEEFEATER GUIDE: "Imagine yourself walking up here at about 10 o'clock at night. You can hear the clock striking as we can now. Ten. We're going up the steps now. We're just approaching, our eyes level with the top steps. The dogs are just ahead of me. Away go the dogs and I follow after them. Up those steps there. And as you can see from this spot now there was nowhere for a person to escape to at night. It's a dead end? A dead end and maybe a dead person running up the steps!"

BEEFEATER GUIDE 2: "Behind you over here is the Bloody Tower, it's name was changed to the tower of blood or the bloody tower during the reign of Elizabeth--the first to commemorate the many tragedies associated with it."
The Tower of London is actually 21 towers, each with its own story, but none so gruesome as the famous Bloody Tower. Here in 1483 the young princes, heirs to the throne, Edward and Richard, were taken into safe keeping by their wicked uncle...never to be seen again.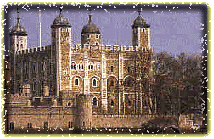 BEEFEATER GUIDE: "By tradition they were murdered in the lower room of that tower--either by being smothered with pillows or being stabbed with daggers. The bodies bundled down the stairs leading..."
These Beefeater guides tell the grim stories of the Tower's famous prisoners with unhealthy delight! Hampton Court and the Tower of London should be on everyone's London tourism tick list--you can get a double ticket. Make sure you allow plenty of time--they're too interesting to be rushed. So you'll try Hampton Court by candlelight will you, but dare you visit the Tower at night?
How about joining tour guide Angela for a ghost walk in the dark? Here she takes us back to the January 3, 1804. We're standing on the site of an old army barracks. That night corporal Jones was on guard.
ANGELA: "Corporal Jones noticed the figure of a woman in the park coming towards him. She appeared to be wearing a white dress with some sort of red pattern on it."
You know what's coming don't you. Yes, that's not a pattern, it's blood. But there's another twist.
ANGELA: "He also realized as she drew level with him that she had no head. She stood in front of him for about two minutes. Now this is quite a long time to be confronted by a headless figures. And then eventually she turned, glided back into the park and was soon swallowed up in the thickening snowfall. It was then discovered that 20 years earlier a guardsman has murdered his wife and cut off the head thrown the body in the canal. The head though had never been discovered, so it was thought this was the poor lady still searching for her head."
Not all London's ghosts of course are decapitated. Angela's two and a half hour walking tour takes us all round the West End. The walk's easy, great fun and costs just $8. On it we're told countless murder stories and hear about the ghosts of theatre managers, actresses and young lovers. Mercifully we didn't meet any...not this time. But will you be so lucky?
More Information
HAMPTON COURT

This is one of my favourite places in London. It's quite special -- and will take up at least half a day. There's a railway station at Hampton Court or you can pretend you're Henry VIII and arrive by boat on the Thames -- disembarking at Hampton Court pier. Don't forget the famous maze.

Information: +181 781 9540. Dress warmly and wear comfortable shoes. www.hrp.org.uk/index2.htm

THE TOWER OF LONDON

Not only ghosts live here, of course: there are the Beefeaters and of course the crown jewels. The oldest part of the tower is Norman -- nine hundred years old.

Information: +181 781 9540. Dress warmly and wear comfortable shoes. www.hrp.org.uk/index2.htm

LONDON WALKS

The ghost walk is one of several done by this company who've been around for 35 years (others include Jack the Ripper haunts, Diana Princess of Wales -- from Apartment to Palace, Shakespeare and Dickens' London etc). The ghost walks run every night of the week. Each walk lasts about 2 hours and they all start or end near underground stations. Cost: $8, $6 for senior citizens and full time students under 26 with ID. Children under 15 go free if accompanied by a parent.

Contact "The Original London Walks," +171 624 3978, E-mail: london.walks@bogo.co.uk, Internet: http://london.walks.com.
[ Features Index ]