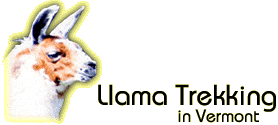 Bred as beasts of burden in South America for more than 6000 years, llamas are not only the world's most sure-footed bellhops, they also happen to be extremely friendly critters who love kids and make great traveling companions. That's why several llama-trekking operations have popped up in Vermont in recent years offering day hikes through the glorious fall foliage in the company of these affable animals. The Savvy Traveler's Tom Verde has this report on peeping at Vermont's autumn leaves with wife, two children, and several llamas in tow.
Llama Trekking in Vermont
By Tom Verde
Llamas are curious creatures. By that I not only mean that they're inquisitive, which they are, but they're also curious to look at. Surely one of nature's practical jokes, these members of the camel family have ears like rabbits, giraffe-like necks, fleece like sheep, and leave footprints that are often mistaken for those of a moose. They stand about three to four feet at the shoulder, but their camel-like heads can tower well over six feet.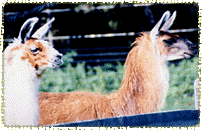 Stowe Llama Ranch

On top of it all, they graze and sound like cows, but are a heck of a lot smarter.

CHANDLER: I would put them on par of some of the smarter dog breeds, you know, the border collie type. For training, usually two or three sessions and they've got it.

Lyndsay Chandler runs Northern Vermont Llama Treks, one of the oldest llama-trekking operations in Vermont. I brought the wife and kids along on a recent visit to Chandler's 35-acre ranch in Waterville, just north of Stowe. There I quickly learned that llamas and kids get along just fine.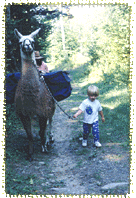 Tom's 2 year-old leads Tsar at Smuggler's Notch.

CHANDLER: A lot of times children start out quite nervous and by the time they're done they have plans on how they can fit the llama in their garage at home or in their bedroom.

I anticipated that my animal-loving seven-year-old son would take an immediate shine to llamas, but I never expected that my two year-old daughter would end up leading one of these quarter-ton beasts of burden through the woods like it was one of her pull toys.

Mountain streams criss-cross the footpaths at nearby Smuggler's Notch, a popular ski resort where Chandler guides groups of up to 15 people on full- and half-day hikes from May until the end of October. Prices range from $30 to $60 per person. Those fees include a homemade snack or picnic lunch .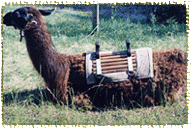 "Randy" on lunch break at Smuggler's Notch--Nothern Vermont Llama Co.

VERDE: And how much can they carry?

CHANDLER: About a quarter of their weight. That's Randy, he's about 300 pounds, so he could carry sixty pounds, somewhere in there. These guys are all real fit, they've been hiking all summer.

Which is precisely what llamas were bred to do high in the Andes Mountains of South America some 6000 years ago. They made their first appearance in the U.S. on farms in the Pacific Northwest in the 1960s. By the mid-eighties, llama-farming caught on in Vermont and has since become one of the fastest growing agricultural industries in the state. Some raise llamas for breeding. Others harvest the animals' wool, which is spun into a fine, cashmere-like yarn. At two to three dollars an ounce, it's a more precious commodity than comparatively coarser sheep's wool, which sells for two to three dollars a pound. There are more than 50 llama ranches in the state, about half of which offer treks or farm visits.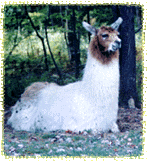 Stowe Llama Ranch

SAM: When they wag their tails, is it just like dogs, that they like it?

LINDA: Actually, he's waving his tail because he's acting submissive.

SAM: Hm-hm.

LINDA: With llamas if they curl their tail up on their back, they're acting submissive. They talk a lot with their ears and their tail, and their body posture.

Linda Wood and her husband Chris have been raising llamas for the past eight years at Stowe Llama Ranch, where educational farm tours together with treks are part of the program. Besides carrying all the luggage and generally being good company, llamas can enhance a walk through the wilderness in still other ways, says Linda Wood.

LINDA: They have great eyesight, so if you just sort of pay attention to where they're looking, often you'll see a bird or a deer or something you would never notice, if you weren't watching what the llamas were doing.

Half-day treks with Jib, Sir Chippewa, or any of the Woods' seven other llamas range from twenty to forty dollars, through what Chris Wood says is one of the largest and most spectacular sugar maple forests in the state.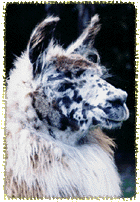 Sir Chippewa, an appaloosa llama at Stowe Llama Ranch



C.WOOD: You can see this whole hill here is about 2000 acres of maple trees. So you walk through here at the end of September and the first of October and you just see the fantastic colors that these trees generate, and it is magical.

POWELL: That's the nicest time of year to hike, it is not buggy, it is cool, and the foliage is great. (2, 12, 322)
Joy Powell runs Green Mountain Expeditions in Whitingham, Vermont, just a few miles north of the Massachusetts border. Hers is the only llama-trekking outfit in the southern part of the state, making it an easy day-trip destination for folks from Boston, or like me, from southern Connecticut.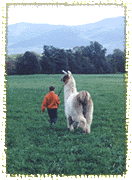 A boy and his llama

Powell and her husband offer half and full-day treks, ranging from twenty-five to sixty-five dollars. They bought their first pair of llamas six yeas ago from a ranch out west, and say they've been in love with the animals ever since.

POWELL: They don't kick, they don't bite, they're not gonna spook, they're not gonna trample anyone, so they're easy to handle as far as a big animal goes...definitely is a good family thing to do.

Powell and other llama owners say the next big thing in llama trekking may be pairs of llamas hooked up to carts, a variation on the theme which has been successfully tried. Some llama owners have even trained their animals to be golf caddies. My wife, being the compulsive shopper that she is, immediately began plotting ways to keep llamas at our ranch...make that yard...back in Connecticut. She even thought of way to make them earn their keep.

KATE: Tom, I have this great idea...a llama paper route, wouldn't that be great?




VERDE: Yeah, yeah, yeah, and guess who'd be out there on snowy winter mornings while the llamas sleep in?

IF YOU GO:

Please Note: Reservations are required for all of the following llama trekking operations.

Green Mountain Expeditions
Steve Wrathall and Joy Powell
PO Box 51B
Whitingham, VT 05361
802-368-7147


Full and half-day treks from early May until mid-October. Half-day treks $25 per person without lunch; $35 per person with lunch. Children under 12, $5 off. Full day treks $55 per person without and $65 per person with lunch. Children $10 off. Large groups by special arrangement.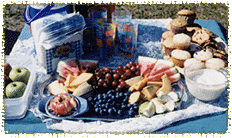 A healthy snack along the way--Smuggler's Notch

Nothern Vermont Llama Co.
Geoff & Lindsay Chandler
766 Lapland Road
Waterville, VT 05492
802-644-2257

Full day treks start at 9:00 a.m. and include a morning snack and picnic lunch, $60 per person. Half day treks (3 hours, morning or afternoon) include picnic snack of fresh fruit, homebaked goods, and Ben and Jerry's ice cream, $30 per person. Sunset treks also include picnic snack, etc. $30 per person. Group and family rates available. Treks depart from Village of Smuggler's Notch. End of May through the foliage season.

Stowe Llama Ranch
Chris and Linda Wood
2363 West Hill Road
Stowe, VT 05672
802-253-5118

Half day treks and educational llama farm tours. Hike with lunch, $40 per person. Tour/hike combined (no lunch) $20 per person. Farm tour alone, $10 per person (children 7 and under free). Open June 20th through fall foliage season.

FOR INFORMATION ON BUYING/BREEDING LLAMAS:

West Mountain Farm, Inc.
Lars and Gayle Garrison
Route 1, Box 694B
Stamford, VT 05352
802-694-1417

While the Garrisons do not offer llama treks, they do host an annual llama bazaar on Memorial Day weekend. In addition, they have the largest llama herd in the northeast, offering stud service and llamas for sale.

FOR INFORMATION ON FOLIAGE SEASON AND VISITING VERMONT:

VT Dept of Tourism & Marketing
6 Baldwin St
Montpelier, VT 05633-1301
1-800-VERMONT (800-837-6668)
FAX 802-828-3233
Visit Vermont on-line at www.travel-vermont.com

FOLIAGE HOTLINE: For 24-hour information on fall foliage conditions, Sept. 1 through Oct. 24, or check VT Dept. of Tourism. To receive a fax copy of the current foliage report, call 1-800-833-9756, an automated fax service.

FOR INFORMATION ON STOWE, CONTACT:

Stowe Area Association
1-800-24STOWE (800-247-8693)
www.stoweinfo.com

Accommodations in Stowe, courtesy of:

Stoweflake Inn & Resort
PO Box 369
Mountain Road
Stowe, VT 05672
Reservations/Information: 800-253-2232
Reservations, fax: 802-253-6858
stoweflk@sover.net

One hundred and twenty-two room luxury inn and hotel in beautiful mountain setting; on-site professional golf faciities, indoor and outdoor pools, spa treatments, tennis, hot-air ballooning and more. Rates range from $50-$75 per person, double occupancy; $120-$180 for suites. Ski house and townhouses also available, $130-$500. Rates change seasonally.

OTHER ACCOMMODATIONS:

Trapp Family Lodge
42 Trapp Hill Road
Stowe, VT 05672
800-826-7000
802-253-5740, fax
E-mail: info@trappfamily.com
www.trappfamily.com

One-hundred room European-style mountain resort, owned by the von Trapps, the family that inspired "The Sound of Music." Rates from $145 to $310, pp/dbl occupancy. Nightly live musical entertainment; vacation packages.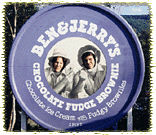 OTHER ATTRACTIONS:
Ben & Jerry's
Route 100, PO Box 240
Waterbury, VT 05676
802-244-5641
www.benjerry.com
Worth a visit for ice cream fanatics. Factory tours, free ice-cream tastings, playground, amusements, "flavor graveyard," gift shop. About 20 minutes south of Stowe.
[ Features Index ]