Colorado Culture
By Wendy Paris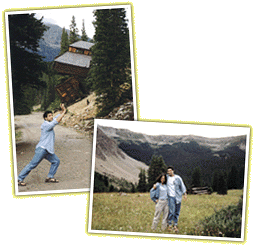 We're on a four-wheel jeep tour in Salida, Colorado, rocking and bumping our way up stoney trails to ghost towns, abandoned mines, aspen groves with flickering leaves. We had to wake up at seven a.m. for this behind-the-scenes look at rocky mountain life. But in our two weeks on the road so far, we've been amazed by the distinct regional cultures still flourishing, despite the Starbucks and Gap stores in nearly every city.
As our hulking Grand Wagoneer chugs up twelve-thousand feet to the continental divide, our guide, Mary, points out the sites: treeless avalanche chutes, wood-filled beaver dams, collapsed mine shafts. Real Colorado.
By noon we're starving. We pull into Pritkin--population one-hundred--to dine at the Wagon Wheel, the town's only cafe. We sit down at a sturdy wooden table, place our sandwich orders, and wait. And wait. Thirty minutes later, we're still waiting. What's taking so long? There are less than twenty diners in the whole place.
I get up and walk to the kitchen. Our waiter is frying burgers over the grill. He darts to the counter to take an order. He scoops ice cream. He heads back to the now-blackening burgers. He's the only person working in the entire restaurant. His staff members, he tells me, are spending the day volunteering on a tunnel pass clean up.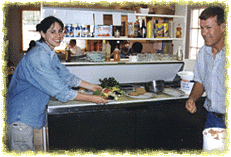 I sit back down, feeling faint with hunger. Mary is telling stories about various ways people die in the treacherous mountain terrain. I glance toward the kitchen. The uber-waiter is now garnishing two enchilada plates. He leaves them on the counter and turns back to the grill. He hasn't even started on our sandwiches. And those enchiladas are just sitting there. I stand up. I was a waitress, once. Briefly. Disastrously. But how hard can it be to hand out two enchiladas? I hesitate.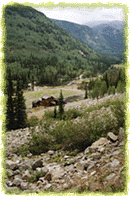 Can a outsider like me--untrained, unknown--a customer, ostensibly--step behind the counter and serve? Not where I live. Ha! If I offered to help in New York City, I'd be laughed out the door. It'd violate health codes. There'd be tax complications. I might slip on a slice of cheese and sue. But this is Colorado. And I'm hungry. I inch my way into the kitchen.
"Look," I say. "Can I just give those enchiladas to someone?"
The waiter looks up from the grill. "Um, I don't know who they go to," he says.
I grab the plates and head into the dining room in search of their owners. I deliver the enchiladas and return to the kitchen. I serve the blackened burgers to three mountain bikers in neon riding gear. A family comes in and gives me their order--which I take, once I find the order pad. Another family heads to the counter to pay. We scan the price list, together figuring out what they owe. I run the cash register and I deliver mayonnaise in small plastic cups. I'm actually having fun in my new identity as a noble volunteer, helping to feed the people.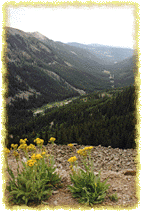 Two hours later, my group is ready to leave. I make one last strawberry cone, look around at the satisfied customers, and realize that maybe this is the behind-the-scenes look at small-town Colorado I was craving.
Colorado still has a free-spirited, frontier mentality. Someone like me can serve food at a restaurant without having to jump through the bureaucratic hoops. The people seem honest...correcting me when I mistakenly charged them for one coke instead of two. And here in Colorado, lending a hand--or accepting one--is a natural thing to do.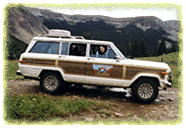 As a tourist, I usually blow through these towns, trying to get a bead on local culture by signing up for a group drive, establishing a repartee with the bell clerk, or sampling regional food. But an afternoon of working at the Wagon Wheel gave me the sharpest taste of a place I'd had yet. I serve the cone and say goodbye to my frazzled co-worker. He takes a twenty dollar bill out of the cash register and hands it to me. "You don't have to pay me," I say. "It was fun." But he insists. And I'm not from Colorado. I take the money and run out to the jeep.
[ Features Index ]