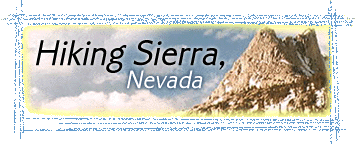 When the English poet, William Wordsworth wrote about walking in the mountains for pleasure he was considered quite eccentric. To educated people in the 18th century, mountains were frightening places where the untamed forces of nature were at work. And at one point, stage coach drivers in the Swiss Alps would go so far as to draw the curtains so passengers wouldn't have to actually see the peaks. Even today the remoteness, danger, and difficulty of many mountain ranges keeps people away. But the Savvy Traveler's Robin White has a different view. Every year he goes hiking with friends in the alpine meadows and passes of California's Sierra Nevadas. This year, he takes us along on his journey.
Hiking Sierra, Nevada
by Robin White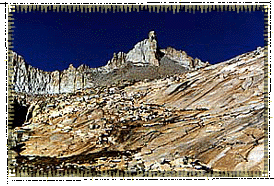 The worst thing about backpacking is cramming seven days of food into a hard plastic bear can, all the while knowing you're going to have to carry it on your back for the next week. There are eight of us backpacking to Rae Lakes in Kings Canyon National Park. We start hiking at a place called Onion Valley, which is a huge granite bowl in the Eastern Sierra. Three magnificent cascades tumble out of the mountains which soar high above. We strap ourselves into our PTDs, or personal torture devices, which most people call backpacks...and we start jamming up the trail. Rolland Carlson, is the graybeard of the trip. He's been hiking for twenty seven years and he says if he doesn't get goal oriented about getting to the top then he does just fine.
Carlson: Other times and I don't have any idea why, I'll just get blaaugh, kind of down and then I have an awful time getting there. I'll say to my(self) "You stupid idiot, get back into where you should be. I'll breath in tune with my steps and that helps my mind just go with the flow.
My mind doesn't go with the flow, it starts cataloging the parts of my body that hurt. Spine, shoulders, lungs, calves, little toes. head and lips. And just to rub it in at the top of the pass, I run into Stephanie Blackmore of San Diego. Not a member of our party...
Blackmore: We ended up camping last night and found an awesome trail which is this one and just decided to go hiking and here we are ...and now we're taking off...

White: Do you realize you just climbed like 2800 feet or something like that?

Blackmore: Is that a lot? ...yeah, I guess we conquered something.

White: You did, yes.
For the rest of us mere mortals, climbing mountains with a fifty pound pack usually conquers us. The second day is the toughest. We're climbing our most forbidding pass, taking us 4,000 feet higher than where we started yesterday. Glen Pass is no more than a slight lowering in a wall of 13,000 foot mountains that we ascend by seemingly endless switchbacks. At the top, the trail goes over a knife-edge and descends across a slope so steep it drops away into apparent nothingness. For the last two weeks we've been checking conditions on the Internet. The pass is open, but snowbound.
By the time we get there black clouds are threatening overhead. At this elevation, thunderstorms can drop temperatures up to thirty degrees in a few minutes. We have to get down fast, but Dee Kirkhouse, a writing teacher, has altitude sickness. Michael Thornton, who maintains the computer network in Yosemite, is nursing a fear of heights.
White: How does it look?

Thornton: Steep! Very steep.

White: So you scared?

Thornton: Oh yeah, a little, maybe more when I get out there....

White: Are you going to lead?

Thornton: Am I going to lead? NO! I thought you were. I think Rolland's taking the lead or Rick.

Carlson: I led once...
I start to think we're about to enact our own version of Jon Krakauer's book Into Thin Air. Under the joking is real fear. Inching her way down the snowfield with experienced hiker Karen Najarian for support, Dee Kirkhouse almost freezes up.
Carlson: Whoa. Someone went through here.

White: Careful now. How you guys holding up?

Carlson: Maybe Dee wants to take a sit down here for a minute.

White: Yep that's a good. Idea.

Kirkhouse: [shrieking] Oh Karen.

Carlson: Dee why don't you come over and sit on a rock for a minute. Rest those wobbly knees.

Kirkhouse: OK.

K. Najarian: You're doing just great...

Kirkhouse: Eee
It takes about two hours but we get down safely - just before the rain sets in. Hiking veteran, Rolland Carlson.
Carlson: You spend much time here and pretty soon you're going to have your humble lessons ...whether it's a storm or whatever it might be. That we are not the center of the universe. We're just one more critter in the wilderness.
The decent from Glen Pass brings us to our destination. The Rae Lakes basin is a wonder of the Sierra Nevada. A mountain called Painted Lady is colored like a pebble you might pick up on the beach and turn over in your hand, marveling at the blackness streaked with orange. Dragon Peak rears an ugly face like a gila monster. And the Rae Lakes, fed by waterfalls of snowmelt, are like a necklace of little blue jewels.
The sun has come out and it's warm enough to make the water look tempting.
Carlson: What's the water like Karen?

Najarian: Very nice.

Thornton: Really or just sorta.

Najarian: Well after you get numb

Carlson: Oh good.

Thornton: It's colder than hell!

Rolland: Liar!

Thornton: I'm getting out of here.
When we started the trip, not everyone knew each other, but after a few days of crawling out of sleeping bags under the same sunrise and washing grime off in the same lakes, we're pretty close. The worst of the hiking is over, we move camp each day and spend time doing what each of us loves to do here in the wilderness. For me that's scrambling up to the nearest peak to find the best view. But Rick Najarian skips the peaks because they lack a crucial ingredient...
R. Najarian: I intend to trawl the deep lakes for trained killers.

White: Down in the flatlands, Rick is a rational scientist, but at 10,000 feet he subscribes to the religion of fly-fishing.

Najarian: Notice the wind come up as soon as you do this... see that I have an agreement with God. I take out my fly line and he brings the wind up so it's harder to cast. Now you see this trout right here in front of us?

White: Yep.
A few feet off I spot a six inch trout idling around in the clear water looking for food.
Najarian: I'm gonna put that fly there... and he hits it and he's caught (me laughing) now that's a dumb trout -- that's a five second fish.
A few five second fish and you have supper. Rick hands some fish over to John Brennan. John is a technical writer, one of the strongest hikers and the most creative cook in the group. His specialty is making feasts out of food harvested in the mountains.
White: What was that?

Brennan That was vermouth, soy sauce, balsamic vinegar and a little fish sauce, Filipino fish sauce.

White: Did you know you were going to make this meal before you left home?

Brennan: No. I bring it along because it's pretty good for about anything.
Besides a few fly-hungry fish, these mountains are home to an assortment of other animal and plant survivors. Locked up for eight months of the year in snow it takes some fancy footwork to stay alive here. The rosy finch ekes out a living by picking frozen insects off snowbanks. "Sky pilot" is a little blue flower with the fragrance of lilac. It only grows on passes so high and windswept that the snow doesn't build up there. Summer in the mountains is short and all of the flowers bloom together.
Brennan: We've got the orchids,

White: The rain orchids.

Brennan: The amazing...

White: The beautiful columbines

Brennan: ...columbines.

White: And there's also Indian paintbrush in there...This is wonderful and this is all within the space of about three or four feet.

Brennan: Tucked underneath this rock

White: Yeah, it's a little Sierra garden.
People have been spending the summer in these mountains for thousands of years. Prehistoric Indians came up hunting deer and gathering roots and grasses. They held trading festivals in the alpine meadows, exchanging goods like obsidian arrowheads and pinenuts with people from the other side of the mountains. Even now people live here during the summer. Vance Vredenburg spends four months every year studying the endangered yellow-legged frog. He says when you stay here a long time you notice the details.
Vredenburg: This basin is filled with waterfalls. But what's really interesting is that they all sound a little bit different and dependent on where you are and how the winds blowing - just like that - you heard it, all of a sudden it got a bit quieter. And all of a sudden you'll hear a new waterfall from some other direction that will sort of surprise you a little bit.
The mountains are full of sounds you wouldn't hear anywhere else like the musical sound of footsteps on loose granite and the haunting sound of wind blowing through the holes of a metal walking stick...
It's our sixth and last full day. We're all feeling pretty strong by now and we're not in a big hurry to leave. We've forgotten about our jobs and found a natural rhythm in which time itself seems to slow down. We almost feel as if we could hike for ever. Writer and photographer Karen Najarian dreamed up the trip.
K. Najarian: The time is full. Even just walking up this pass, every grain of dirt, every rock, every photon of light on my skin, it all speaks to me. Each moment.
Later that day, hiking on the trail, we get caught in a huge rainstorm. We huddle under a small tarp strung between trees and play word games and make tea to pass the time. We don't have our tents set up. We're cold and tired and we feel exposed. And for a moment we're reminded again of the risks of being out here ...the fact that far from our electronic toys, we're dependent on our own resources and on each other for our safety. But it's that simplicity that we come for. It's just us, and the mountains, and the weather.