See if you can solve this: Who's the most famous fictional detective in history with unparalleled powers of observation and deduction? The answer is elementary -- Sherlock Holmes, of course, who we seem to love as much now as we did a century ago when he first prowled the streets of London solving mystery after mystery. The Savvy Traveler's own super sleuth, Martin Stott donned his deerstalker hat and gone on the trail of the great man.
In Search Of... Sherlock Holmes
by Martin Stott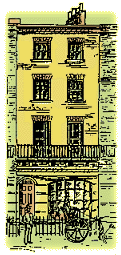 Dr. Watson once described London as "that great cesspool into which all the loungers and idlers of the empire are irresistibly drained." So he wasn't a travel agent! And that was 1887. Today there's a better class of idler in London -- we're called tourists! But some things are still the same -- Follow me.
First Stop Langham
Ladies and Gentlemen, welcome to the Langham. -- London's first grand hotel opened in 1865. This is where Arthur Conan Doyle first met his publisher and the Langham features in several of his Sherlock Holmes stories. We're staying here in the Conan Doyle suite -- in five star style. Marble floored toilets (his and hers) -- a parlour where you can enjoy your full English breakfast in private, and the bedroom. They're running a special package here and I mean special from the moment you land in London -- as the hotel's Ruth Jacobs, explains.
"You will be out: close to a thousand dollars, I guess."
That's a thousand dollars a night! But the best things in life are free. For a thousand dollars you get a free mini bar, free chocolates and free champagne.
Next Stop, Baker Street
From the Langham it's a fifteen minute walk to Baker St. where of course Holmes and Watson lived. 221b is actually a bank -- but if you're cheeky you can ask to meet Mr. Holmes's secretary, Mark Maguire -- the resemblance to the St. Lewis baseball slugger, by the way, is in name only. Maguire is the guy who collects Sherlock Holmes's mail. He says he gets hundreds of letters a year from around the world.

Memorabilia On Your Left
A couple of doors down there's a fascinating Sherlock Holmes memorabilia shop -- Britain's biggest seller of hats and pipes. The owner is Marcelle.
I'm afraid this was a take-it-off straight away job. Let's get on to our next stop.
Now Arriving, Charring Cross Station
Charring Cross Station from where Holmes and Watson set off to Dartmoor on their greatest adventure.
The Hound of the Baskervilles.
Charring Cross is one of several majestic Victorian railway stations in London. Well worth a visit. Next, let's dodge the yucky, mucky pigeons at Trafalgar Square and head to the Sherlock Holmes pub nearby for lunch. Here they've recreated, with the help of the Conan Doyle family, Sherlock Holmes's study. The manager Kevin Macintyre showed me round.
Lunch Time Departure to Tottenham Court Road

After lunch we'll stroll up to Tottenham Court Road where Holmes bought his Stradivarius violin. We're aiming for Murder One -- a detective bookshop. Conan Doyle wrote the last of his 60 Sherlock Holmes stories in 1927. But the adventures didn't end there, as Maxim Jakobowski, the shop owner explains. Since Doyle's death, around 100 others have taken up his pen writing Sherlock Holmes' stories.
Tea Time
Maxim reckons there are at least 8,000 Sherlock Holmes books, or books about him. And he's got quite a few. If you've the energy you can go on to St. Barts Hospital where Holmes and Watson met, and to the Lyceum theatre which we learn about in The Sign of Four. But let's finish for today at Covent Garden Market focal point for the Blue Carbuncle -- the mystery of a huge precious stone, hidden in a goose.
You won't get a goose here today, but you will get a nice cup of tea while you listen to the street musicians.