Carnival Cruisin'
Part 2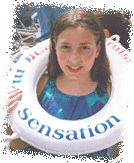 Morning on the Lido deck: 4-piece reggae band, two bars, and a salt water pool. Emma's disappointed. The pool looked bigger in the video. Too crowded for laps, and the seawater burns her eyes. But the sun has returned.
I spy three couples, sitting together, having a wonderful time.
"He has a new name: Al, Bucket-boy-co-holic. He's gone thru 50 buckets of beer."
By now, Rosie and Emma are enjoying the water slide. Ruth reads on a deck chair. She's already run 3 miles on the track. Thank goodness she is not interested in the $500 short cut to cellulite reduction that Sinead McCurney is right now offering at the spa (where there are plenty of takers).
Wondering about the average weight gain on this ship? Ten pounds.
While passengers in the spa and casino work at losing weight and money, others are just hanging out in the lounges chatting, playing cards with friends. There are plenty of singles and couples on the Carnival Sensation, But, many are traveling in large groups: families celebrating mom and dad's 50th, teachers vacationing together, old grads having a reunion.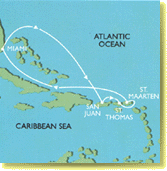 Cruise Director: "I just got off phone with captain, says we'll be in San Juan at 4:30 this afternoon. Who's ready to shop?"
The sound of applause lingers in the air.
After 2 days at sea, an evening of shopping and sightseeing in Old San Juan, the Sensation will do 3 islands in 3 days: Puerto Rico, St. Thomas, and St. Maarten. The cruise director explains where it's safe to shop. Passengers load up on tax-free liquor and gold jewelry, go to recommended sites and recommended beaches, then it's back on board.
"Ladies and gentlemen, get your camera for a photo op. Let me introduce the master of this vessel, please welcome to the stage, Giovanni Catunio.
As the Captain calls for more enthusiasm from the crowd, Jill Ingrahm, a 7th grade teacher from Portland, Oregon, looks on.
Jill: "How is it for a single woman on this cruise? So far, quite a few single women, and haven't seen a lot of single guys around that are my age. I'm in my early 30s. There have been guys who've been hitting on me who are in their early 20s with a Miller beer in their hand, whooping it up. I don't know, but I mean it's a lot of fun. You meet a lot of people from other countries and stuff so it's very interesting. My intentions weren't to get picked up so its just fine for me."
After yet another good dinner -- it's Italian night and the waiters sing, O Sole Mio -- we take a stroll through the photo gallery where you can buy pictures of yourself having a good time: grandparents in formal wear, perhaps dad posing with show girls? Some Guests have their picture taken by a painted backdrop of the sea, so they don't have to go outside.

Showtime again. Most nights it's Las Vegas style reviews, G-stringed dancers, comedians, singers, jugglers, magicians. Tonight, however, is the guest talent show. No tryouts. It's just the first six acts to show up. Most are surprisingly good!

A truck driver sings Georgia
A farmer plays Johnny Be Good
A gospel singer
A woman from New York sings a tune of her own creation
My daughter Rosie has a feeling about this song called "Save Me from the Wind." She calls it "Save Me from this Song."
Still, talent night is a hit, and nearly everyone reports they're having a wonderful cruise. Even the bookish couple from Philadelphia lured on board by their aging dad are making an adjustment.
"At the beginning I was appalled by the atmosphere we would find ourselves living in for 7 days, but we have found it to be peaceful and quiet and get off by ourselves."
And what about my wife Ruth? After seeing the activities list, (how many ping pong balls can you stuff into your bathing suit? The hairy chest contest) she talked about swimming to freedom in Cuba. But, what's she making of the cruise now that she's gotten a week's perspective?
"Nursery school for adults."
Alas, maybe if we'd come with a gang of pals, or paid extra for our own private deck. But hey, Carnival's not for everyone. These are the fun ships. Some people need less fun thrown at them than others. Take Roberta Weinroth from long island:
"We went last year on a different cruise line, we went on the Celebrity Line, and the comparison was great, we had great time with 12 people this time, but last time it was first class, white glove. This is more like a fun ship, I would recommend my kids to come, they'd have a good time, but if you want a little more pampering, they'd take your tray omelets man, they serve you coffee."
We may criticize, but we never fail to keep eating.
On French night, the waiters dance the Macarena. Go figure.
And at our a final American dinner. We give Renato and Gede the tip that Carnival recommends, and then some. Although we will be replaced at table 73 by another foursome, week in, week out, until Renato and Gede crack up and go home from too many months at sea, they made us feel special.
In the morning, I spot a family taking their time at the gangway. Maybe they want to be last off.
"I heard a lot of people say, I want to get off this ship. I say, not me man. I loved it. Ready to stay on one more week. Gotta go back to life cooking, cleaning. I really appreciate you reminding me of it."
[ Part 1 | Features Index ]