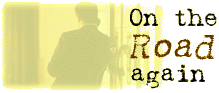 On the Road Again
Interview with Jim Cote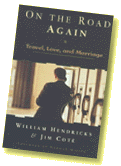 Travel may be exciting but most of the time it isn't easy -- especially if you're a business traveler. For you, travel means regular visits to your firm's headquarters half way across the country -- perhaps even weekly hops to clients in major cities where a ride in from the airport can take two hours in traffic. And you've probably had the experience of arriving at your hotel late at night only to be ushered to a smelly room on the smoking floor...and, you got it...it's the only room available...and you're not a smoker.
Yes, that's the glamorous life of the business traveler. What he probably won't tell you is that the stress of work-related travel "affects his family as much or more so than it affects him," says Jim Cote, a road warrior himself and co-author of On the Road Again: Travel, Love and Marriage. Jim joins Rudy with his advice for the spouse-on-the-go, as well as coping strategies for the family left behind.
Listen to an audio clip of the interview available Monday, September 21, when Jim imparts his lessons learned about the stress of business travel and how to maintain a successful relationship while traveling.
[ Features Index ]