Are you planning a family get-together and looking for something unusual? For the adventurous and slightly insane, the answer may be "family travel." The concept is straightforward: corral the whole clan into a single tour group...and go. The Savvy Traveler's Judie Fein recently joined one extended family as it headed off on a journey in camper vans.
Family Travel
The Maori Way
By Judith Fein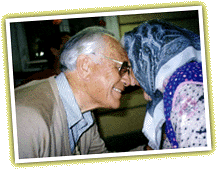 Chief John touches noses with a Slovenian woman

Three worn, tired, aging camper vans to be exact. We have joined a pretty exotic group from the South Pacific to see how the concept works. Kia ora, everyone. Hello and welcome to a trip with the indigenous people of New Zealand. A Maori chief and his wife have invited 28 family members and close friends on a month-long trek through Europe.

There are 7 children, including several drooling and gooing pre-verbal toddlers. The chief, John Wilson, is in his 80th year, so we can see how every age adapts to being on the road.

The ultimate destination is England, but the trip begins in Rome, where the first challenge is finding a spot to nestle the vans for the night. While group members envision bedding down in the moonglow of a ruined Roman villa, we have to settle for hideous yellow orbs that glare from the parking lot of a MacDonald's. Then 28 people try to get comfy and cozy inside the vans, which normally sleep l2. Maria, a family friend, describes her first night on the road:
Maria: "It's just crazy--you can't do it. I spent the night sleeping across 2 bucket seats--someone slept on the floor--kids screaming--6 people to a bed--no ventilation--people wanted to go to the toilet. It's a nightmare."
Christine Wilson, the chief's magnanimous and flexible wife, scraps her plans for vanning-out and decides we'll travel by camper but stay in hotels. The next daunting task is getting more than 2 dozen people organized in the morning. Maria explains why it takes 2-3 hours to get into the vans.
Top: Chief John performs a haka at a Slovenian roadside stop
Bottom: The author (in sunglasses) is crammed into a van with her Maori friends
Maria: " Some people move very very slowly and some people forget things. There's babies and there's discussions about who's going to go in what van. I don't know what else--but it seems to take forever.
You all know what the family friction quotient is when you go home for three days at Thanksgiving. Imagine the strains of being encapsulated l0 to l5 hours a day with everyone nursing different dreams of where we should stop and tour. Before the bitching and grumpiness escalate, Chief John invites everyone to express an opinion. Then, conflict-resolution is done the Maori way.
By singing.
John: "We get our blessings out of singing. So singing will give us those sort of blessings that we're after."
Chief John is right. When we board the vans again, there is unity of purpose and intention.
One of our only mandatory stops is in Slovenia, where eldest son Carin is to deliver a keynote address, representing the indigenous voice at a conference about art and business. Loaded down by thousands of pounds of luggage which are now stuffed into the non-functioning toilet rooms, the vans can barely do 50 miles an hour. Carin grows anxious about reaching the conference.
In order to make time, meal stops are cut out and we eat pretzels, chips and ice-cream. Just when we feel we can make it on schedule, there is an awful, grinding noise and we pull into a gas station.
John. "We've got a mechanic here and we're trying to ascertain what is wrong with the motor. (squealing sound) Can you hear this? It's what's wrong with the engine.
The mechanic's diagnosis reveals that it will take 24 hours to have the ailing van repaired. A group meeting is called at the gas station and someone suggests that Carin go to the conference alone. He agonizes about leaving the caravan.
Carin's : "The conference opens at 4 o'clock tomorrow. I'd like us all to be there. I want to identify us as a group that has made a journey to be at that conference and you are all part of that group."
We decide to leave 2 people with the broken van and the rest of us go ahead with Carin, jammed and crammed into the 2 functioning campers.
The conference goes well, and we hit the road again. We struggle to go everywhere and do everything, and we're all exhausted. Christine Wilson decides to modify her dream journey by eliminating some of the destinations and extending the time allocated for sleep and rest.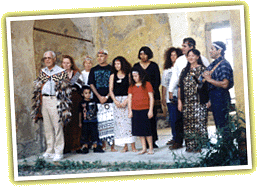 The Maori are always singing
Christine: "It's not working for the kids and mothers and grandmothers. They can't put in these long days. The babies are getting sick, so even if we have to miss some of the points, we hope it will be less stressful and more enjoyable."
Christine can improve the quality of the journey, but we're helpless when it comes to the rented campers. Over the next three weeks, the vans disintegrate. Parts fall off, the wipers cease to function, the vans get separated, a BMW bangs into us, someone puts diesel in the gas tank, there is a blow-out, and now--it's burglars! Maria has had it!
Maria: "The van just got broken into--and the window of the van has been smashed in!"
We're now traveling without a side window. A day later, one of the kids shatters the front window. Everyone is now so punchy that there is only one possible reaction:
(Sound: Hysterical laughter)
One of the biggest problems on the road is doing laundry. In Vevey, Switzerland, the moms spend half a frustrating day fruitlessly trying to find washing machines.
Christine: "For the mothers with babies, they seem to generate a lot more laundry--with vomiting and tummy bugs. Trying to find a laundry or a hotel with reasonable laundry costs has added stress."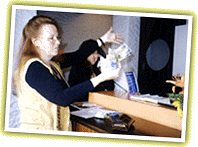 Christine Wilson paying for everyone at a Swiss hotel after we give up sleeping in the campers

In Paris, there's even more stress when sweet, 30-year-old Antony, who suffered a brain injury when as a child, has what Christine calls "a flip-out" in their hotel room.
Christine: "Suddenly he leapt off the bed and became an incredible monster--wanting to just tear us apart."
The trip is so fraught with obstacles, that we often miss major tourist attractions. What happens, instead, is that dealing with crises forces family members to work together and function in a group setting under duress. It becomes an interior, as well as an exterior voyage. Strangers often pitch in to help--like a Rasta-man in England who crawls under a van to diagnose a problem or a group of Swiss people who find us accommodations. The strangers are thanked the traditional way--the van members line up to touch noses with them.
And to show his appreciation, chief John treats the Swiss to a Maori "hakka." It is a combination greeting and war chant, replete with slapping his body, sticking out his tongue and making faces like a gargoyle.
Touched by this unexpected gesture of open-heartedness, the timid Swiss sing to their new Maori friends.
Wherever we go, people are moved by their contact with the generous, good- natured, patiently-enduring caravan of Maoris. Several burst into tears because they are touched in their hearts.
Whatever the Maori miss in tourist high-spots, they make up for in new friends and rich human interactions. We begin to wonder if the most meaningful part of travel is about people, rather than places.
At the end of the month, we limp into Manchester, England, where the journey ends. There is one last, emotional meeting where group members sum up their experience.
Virginia: "I feel like special bonds of friendship have been formed forever. Thank you so much from my heart for this."

Russell: "Where some have not been strong, others have had strengths to keep them going."

Young Gina (crying): "On behalf of all the children and the ones who can't speak, it's been special for them...and thank you...that I'm at an age where I can remember it and thank you for taking us on this trip."
Well, it's time for me to bid farewell to the Maori.
Judie: "This is dedicated to all of our traveling companions. Here's your roast, guys. (To the tune of OLD MACDONALD.....

Christine Wilson made some plans
E-i-e-i-o
It started with 3 camper vans
E-i-e-i -o
With Leonardo here and Devante there
Spewing and pooing everywhere
Christine Wilson made some plans
E-i-e-i-o.
[ Features Index ]