Ira Under Glass
An Interview


Ask anyone who listens to public radio about Ira Glass, and without skipping a beat, they'll tell you he's the hottest thing to hit the airwaves in a very long time. Probably because Glass does what others only dare to do.
In his iconoclastic weekly show This American Life, Glass reports on the state of the nation by looking at the lives of ordinary Americans. His guests are Bob and Jane Doe talking about lost loves, the problems of being immigrant parents and less mainstream stuff like people who lead double lives and kids who tell lies.
More about Ira Glass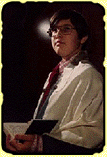 This American Life host and producer Ira Glass started working in public radio in 1978, when he was 19, as an intern at National Public Radio's Washington Headquarters. Since then, he has worked on nearly every NPR network news program, and done nearly every production job at NPR News. He has been a tape cutter, newscast writer, desk assistant, editor, producer, reporter and substitute host. In NPR's Chicago Bureau, he did several documentary series about public schools and about race relations.
One of them followed school reform at Taft High School in Chicago for a year; another documented race relations at Chicago's Lincoln Park High School; yet another followed a year at Washington Irving Elementary School. His education reporting won awards from the National Education Association and the Education Writers Association and led to two invitations to speak at the Harvard Graduate School of Education. In 1988, he was named as one of a handful of "Young Journalists of the Year" by the Livingston Foundation. A 1991 series comparing race relations in South Africa with those in the United States won an award from the National Association of Black Journalists. While working as a staff reporter, Glass also produced the work of writers like David Sedaris for NPR, and for five years co-hosted a weekly local program on WBEZ Chicago called The Wild Room - a show that defies easy description. He graduated from Brown University in 1982.
[ Features Index ]