The Pacific Northwest is about to lose one of its biggest tourist attractions. On September 9th, an Air Force jet will fly the movie star killer whale, Keiko, to a bay pen in the waters of his native Iceland. It'll mean more frequent flier miles for a whale that already has lots. After the surprise success of the first "Free Willy" movie, a Hollywood studio and schoolchildren around the world combined their pennies to rescue Keiko from a cramped, overheated amusement park tank in Mexico. The whale has spent the last three years at an aquarium in Newport, Oregon being nursed back to health and trained for a possible return to the wild. Newport is fairly confident about the future without Keiko and his legions of fans. Correspondent Tom Banse reports.
Keiko Heads Home
By Tom Banse
If you haven't seen the world's most famous killer whale, you've only got a few days before he's gone. Be prepared for company... The Oregon Coast Aquarium is setting and then smashing one attendance record after another as families scramble to see the "Free Willy" movie star.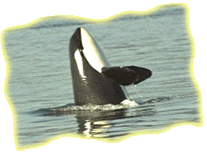 "We brought all the grandkids to see him before he leaves. That was the whole goal of this trip."
"We didn't think it would be right to see him if he was going to be held in captivity, but... thought it would be worthwhile to see him."
"We watched him get healed up, and put on weight, and get to be a happy warrior so, sure we hate see him leave."
A Newport high school student making a final visit says some locals wonder what'll happen to their town after the whale leaves.
"It could be bad, you know, money factors. But it'll be nice just because there won't be as much traffic."
Keiko is being sent off in style. Over a thousand people turned out for a farewell concert last month. Singer-songwriter Theresa Demarest performed a special instrumental.
The Oregon Coast aquarium has also held well-attended "farewell lectures" where Keiko's trainers describe the pending trip to Iceland and how the whale's rehabilitation will continue there.
Keiko seems oblivious to the commotion he's causing. Most of the time he floats lazily by the windows of his tank watching visitors watch him. Keiko is no killer, in the words of one clever headline writer. But his trainers are proud of the progress they've made nursing the orca back to health and teaching him to eat live fish.
Diane Hammond: "This past week, he ate his entire day's diet in live food... major milestone..."
Free Willy Keiko Foundation spokeswoman Diane Hammond says moving the black-and-white beast to Iceland is the next logical step in Keiko's gradual reintroduction to the wild. He's spent the last 19 years in captivity.
Hammond: "Keiko is not ready to be set free. In fact, we really don't talk that much about release right now. We have no idea... We do know he needs to get into a natural environment... once we see how he adapts to all the marine stimulation again, that will give us a much better idea... it may take years before we know how the story will really end."
Trainers play variations of "hide and seek" with Keiko to sharpen his hunting skills. And they horse around to improve his physical endurance. One of the whale's favorite games is to knock a trainer off a big floating inner tube.
Keiko's arrival in Newport early in 1996 instantly doubled attendance at the Oregon Coast Aquarium. City coffers also brimmed from a 45 percent jump in lodging tax revenue. Aquarium president Phyllis Bell says there's no question the visitor count will drop some after the whale leaves. But Bell says the aquarium has big expansion plans that should soon set things right. Plans call for Keiko's two million gallon tank to be partitioned into near-shore and deep sea habitats. A clear plastic underwater tunnel would take visitors past a reef, a shipwreck, sharks, tuna, and sunfish.
Bell: "It would be just like walking straight off the coast ...walking right in the middle of the water all the way out. It'll be an experience people haven't had before."
Business owners elsewhere in town share Bell's optimism that Newport will survive the departure of their movie star whale just fine. They're counting on people who first came mainly to see the whale to return for another helping of the coast's other amenities... starting with the wide sandy beaches and rugged headlands.
Mark Jones owns Big Guy's Diner.
Jones: "I think everybody in town knew he was going to go... hoping it would be maybe five or six years. We're realistic. We've been a tourism town since the 1890's. We're confident that this will be a very short-term slowdown and then continued growth in business across the board."
Keiko's owners just put the final touches on their contract with the U-S Air Force to fly the whale home. The Air Force's C-17 "Globemaster" is the only plane with the capability of carrying such a heavy cargo as Keiko direct from Newport to his new home off Iceland.
Should you miss Keiko and still need a fix of big, blubbery, fish eating behemoths, you can always look for the packs of sea lions on the bay front.
They're loud, they're ornery, they sing for free, and they're not going anywhere.
[ Features Index ]