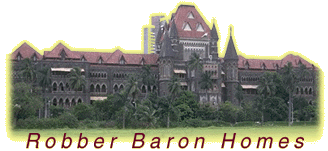 Robber Baron Homes
An Interview with Kim Clark and Faye Rice
Ever been curious about the homes of the rich and famous of days gone by? Wealthy industrialists like Getty or Rockefeller who had so much money they could afford to have several homes...places where people supped in black tie, rode to the hounds at dawn, and spent long afternoons playing croquet and sipping mint juleps in the rose garden.
The mansions these tycoons called home were the subject of a story Kim Clark and Faye Rice wrote for Fortune magazine. They've come to assure me that even if your family doesn't own oil wells or have its name emblazoned across railroad cars, for the right price, you too can live for a few days like....as Kim and Faye call it...a robber baron.

An audio version of the Robber Baron interview will be available Monday, August 31.

For more information, check out Kim Clark and Faye Rice's article that appeared in Fortune magazine.
[ Features Index ]