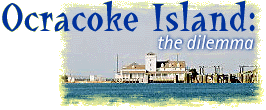 What happens when an island paradise becomes a victim of its own success? Our vacationing reporter Karen Brown thought she stumbled upon the answer to crowded beach towns where McDonald's are as common as cockle shells. She found an out of the way beach community called Ocracoke. But she soon realized that the people seeking an alternative to urban or suburban life may be destroying the very refuge they sought.
Ocracoke Island: the dilemma
By Karen Brown
Four years ago, my friends and I were looking for a vacation spot in the Carolinas. Most of the beach towns, from Kitty Hawk to Nags Head to Hatteras, are accessible by highway, and they show it -- with drive-through liquor stores, outlet strip malls, and fast food complexes mingled with five story condos.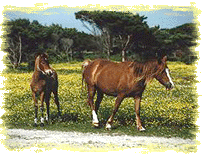 I went to the local library to find a more remote place. What I discovered was Ocracoke island. It's described as 10 miles of federal park land and rich natural life, with forest trails and beach dunes. And its romantic character appealed to me as much as the natural beauty. The pirate Blackbeard was captured on Ocracoke in the 1600s, wild horses used to roam there, and the native islanders had even developed a distinct dialect.
Best of all, a 40-minute ferry ride separates the island from the rest of civilization.
As we pulled into the harbor on our first trip, all we saw was miles of sand and beach. Our home was a tent on the beach, and we felt the island was ours. We only occasionally ambled into the village for a bit of air conditioning in the town's only pub. It's there we saw early signs of development.
It was only this year, our third visit, that we realized we weren't the last ones to discover this island paradise -- the house we rented over the Internet was sandwiched between construction sites, which will soon turn into more rental homes.
Making our way from the ferry dock to Ocracoke village, population 800, the effects of one and a half million visitors a year had begun to take its toll. There are ice cream stores and gift shops at every corner. Tourists ride rented bikes down the middle of the street in herds, forcing locals in pick ups off the road. Ferries arrive every 10 minutes or so, and wind-burnt old men hawk sailboat cruises or fishing expeditions.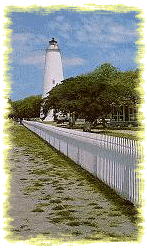 Which is not to say I minded all this. I was on vacation and in the mood for a little indulgence. But at the same time, I felt protective of the island -- and had an urge to record the charm of Ocracoke, before it becomes another Hatteras.
"I'm a full-blooded ocracoker, yeah! Hah, hah. I'll tell you. I grew up here, and I'm a waterman. I like the water and everything. Yep."
Eighty-three-year-old retired fisherman, Owen Gaskill, shades himself all day next to a fruit stand on his front lawn, where tourists drive by on their way to the village lighthouse.
"Well, when I grew up there wasn't barely a little bit here, up until the forties, we had no paved roads or nothing. All sandy roads. Yep. Nothing, no big high rise buildings or nothing."
The days are gone when Owen knew everyone at the post office and general store. But he says the islanders have accepted change, grudgingly but sometimes thankfully.
"Well, in one way they're good. The changes, nobody now don't have to leave home to make their living, unless they want to. but when I grew up you had to either be a fisherman and half starve to death, hah, hah, or leave the island. Yep, but now anybody who wants to work can get a job.
Owen's only spent ten years away from the island. But many younger folks came from other places to share the tranquility of Ocracoke, and they helped build a tourist industry that they now partially regret.
"Well, it was totally different. It was like a sleepy little fishing village -- everyone used to go to the base docks at night, a shrimp boat would come in and they'd steam up a bunch of shrimp. It was just kind of a social place."
Tony Sylvester, a deeply tanned 48-year-old, moved to Ocracoke more than twenty years ago -- to escape the chaos of the Jersey shore. He began as a carpenter and builder, and a few years ago, he started a surf shop and kayaking business.
"When I first came here, everybody thought how horrible Nags Head was. And now this is turning, now 20 years later, this is turning into exactly what Nags Head was. One way it could have went, and I would have really liked to have seen it, if we really exploited the natural and clean environmental beauty that we had here. And we didn't. We just popped up more gift shops and you know, more things for the masses. And now that's what we're getting.
I guess he was talking about shops like this, the Island Ragpicker, where I bought a t-shirt, a few postcards, a shell necklace, and a cutting board. None of which I really needed. But isn't my money welcomed into the local economy?
Yes and no, says born and bred Ocracoker, Candy Gaskill.
"I really think the locals are just getting tired of it. they're wanting to go somewhere else where they can get that small, hometown feel back again. It's so crazy and so busy in the summer, it just doesn't have that feel anymore with all the businesses, and all the people that's coming and stuff and everything."
Four generations of Candy's family have run the wood-thatched Albert Styron general store. They used to sell grocery staples. Now they stock gourmet cheeses and wines.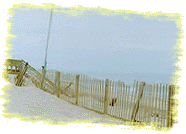 New Hampshire native Ron Cook was reading the newspaper at the Ocracoke coffee house, which looks more like a Seattle coffee joint than a spot you'd find in a fishing village.
"I came as a tourist to see what was unique about this place, which was the community, that has been here for several generations, and yet by doing that, you're diluting it! you know! You're commercializing it."
It would be easy to fool myself into thinking I'm not really the problem. If I were the last to discover the island, then everything would be fine. I tell myself it's the thousands who came later, demanding cable TV, playing loud music, willing to pay four dollars for an ice cream cone, who corrupt a charming island village. Of course, deep in my heart, I know my mere presence on someone else's homeland changes it, and yet I can't bear to give it up. At least not until it becomes just like everywhere else.

By the way, Tony Sylvester - the surf shop owner? He's retiring this year and moving to a seaside village in Central America. He won't tell a soul where it is.

Candy Gaskill would like to stay put, but isn't sure she can afford the rising property taxes.

But Owen Gaskill, the old fisherman turned fruit seller, plans to die on the island.
"A lot of people says, there's too many people they're gonna run us away. I say, No. I said, they're not gonna run me away. I've been here too long for 'em."
[ Features Index ]