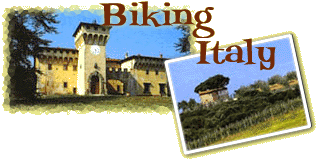 Hannibal brought elephants across the Alps to conquer Italy. Adventurer Joan Reiss with husband Mark and friends, took their bicycles to explore the Italian countryside. The destination is Tuscany -- located in north central Italy with a land area slightly larger than New Hampshire. This was not a fancy, pre-packaged tour but a do-it-yourself expedition complete with rented car, large bike rack, and an adlib type of itinerary.
Biking Italy
By Joan Reinhardt Reiss
My husband Mark and I had cycled in France once before and were eager to try again. So we jumped at the chance to join our friends Joe and Edie, veteran cyclists on a three week bike adventure through Tuscany. The rolling emerald hills with small paved roads and sparse traffic seemed like a cyclist's paradise.
We didn't visit well-known cities like Florence or Siena but towns whose names sound like Italian operas: Montepuliciano, San Gimignano and Montefollonico. Part of the challenge was picking the next town and planning a route.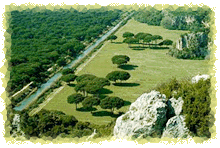 Arrezzo -- alright so how do we get there? can we open this up a little? How big was Sienna? Well, we're not going to stay in Arezzo. I want to see the roads because I don't see anything major. Well, there isn't anything major. But what I would suggest... Is Arezzo a big city? Can we open this up here? No, we don't want to open it up because...
Cycling slows the pace of travel and expands the senses. You can feel the breeze, smell the countryside and listen to village life. It occurred to me that had we been traveling by car, we would never have reached some of these secluded hilltop towns but by bike we could head further up small cobblestone streets and into the town squares where we could meet and try to talk with the locals.
Mangerai buono? Oh, Mangai, Mangai Buono..[Bronx cheer] Si, manga buono. Quero dolce. OK. Que statas sienta? California. Maria benno California com Italia. Napa Valley conna vino....
" Where do we go now? Straight ahead for a change. We go about 8 kilometers and then we stop and see where we are. Stop and eat something. Alright up and onto Cortina , no Cortona we're going today. Up!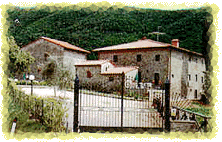 Cortona is exquisite and literally covers the side of a mountain. Our muscles aching after a hard three mile climb, we're rewarded by extraordinary views of the countryside as we bike ever higher. We cycle by the old church and past ancient buildings of tan stucco and brick with red tile roofs; from the distance these appeared to be made of pink gold . We met an American ex-patriate Peter Borelli who's been lucky enough to live here for almost two years.
"The beauty. You know sometimes it brings tears to my eyes; it fills my chest. [Cut to:] It's really beautiful and then the people are also part of the beauty. They're just an open warm people."
After Cortona we decided to search for the Monte Olivetto Monastery with its famed herbal pharmacy. The Abbey was 6 miles up a narrow, steep road lined with Tuscan wildflowers and dominated by red poppies and the fragrant smell of broom.
I had visions of a typical Italian church with floor to ceiling art and baroque marble decorations. But instead the abbey had a stark white interior, decorated only with an altar painting and a gigantic vase of flowers.
Slowly about twenty white robed monks entered. Their voices resonated under the high vaulted ceiling. standing in that ancient church, watching and listening to the 1400-year-old chants swept me backwards in time. This haunting music will always be part of the Tuscan countryside.
On the last morning of our trip, Joe and I sat on a balcony overlooking a deep lush valley. Why was Tuscany such an amazing cycling experience?
"I think that Tuscany provides a feast for the senses. First of all it provides a feast for the eyeballs because it is undulating green, so placid and little mountaintop villas all over the place. It provides a feast for the ears in a sense because it is so quiet and placid.
My bicycle enabled me to savor the quiet back roads. I could go beyond the asphalt and truly revel in the countryside. Compared with a car or train, our slower cycling pace made for easy stops that allowed us to truly enter the world of the local people. We're eager to repeat this rich experience with another European bike trip. Next stop - the Pyrenees.
[ Features Index ]