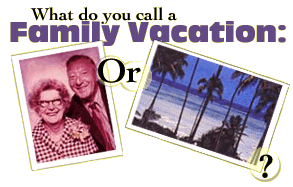 Family Trips
by Deb Monroe
Dear Rudy,
Recognize these sounds? The happy sound of a family reunion? And yes, it's happy. On the surface, I'm happy, happy, happy. You'd never know by looking at me that I'm experiencing a little turbulance. You see, I just heard my husband refer to this "trip" as our vacation.
Uh uh. No way.
Am I relaxing in the sun slathered with the SPF 15? No. I'm crammed into a Residence Inn with a bunch of in-laws. Can I hear the crashing of the waves off in the distance? No. But I do hear my nephew screaming as my children over-stimulate him. At any point does a scantily clad cabana boy offer a reclining chair? No, but my Cuban brother-in-law is beginning to crack and tries to sneak off.
Me: Alfredo, where are you going?

Alfredo: I'm going to have a Marlboro drink.

Me: Okay. Translation -- that's a smoke right? You're going to get a smoke.

Alfredo: No, I quit.
Well, I'm no quitter. I'll get my husband to understand the definition of a vacation if I have to tattoo it on my forehead. A vacation involves sun, fun, and the unlimited right to read books and take naps.

What I am on is a trip. A trip to see the family. A trip to a mid-sized Pacific Northwest city awash in designer beer, Birkenstocks, and bad weather.

Right about now, you're probably thinking I'm a bitter, twisted woman who doesn't have a smidgen of family values. Wrong. I love my family.

I also love vacations. But as there is only a limited amount of money to go around and this little trip is setting us back about three grand -- well, the family trip has suddenly become the family vacation.

So here's what I've learned to survive.

As you sit there, surrounded by in-laws, resist all unhealthy thoughts like "I could be in Cozumel right now." Instead calculate -- down to the penny -- how much money the family trip is costing. Follow these simple steps:
Go to a travel agency and ask where else can you go for that amount. In my case, it was Hawaii for five days.
Take the brochure -- like I did -- and plunk it down in front of your mate.
Point at it, silently, yet accusingly.
Take this moment to extract a promise that your next trip will be to a resort destination -- cabana boy included.
Another tip. If you can stand it, stay with your relatives and eat in as much as possible. The money saved can go toward that fabulous Caribbean vacation you have been dreaming about.
If you must stay in a hotel, you might want to try this. I called a couple of four-star hotels in downtown Portland and gave them my sob story. Boo hoo. Instead of cavorting on a beach somewhere, my husband was making me see my sister-in-law who once called me a fascist yuppie pig. The reservation clerk sympathized and actually knocked $130 bucks off the rate. So I called another fancy hotel and got the same results. The clerk reduced the rate by $75 dollars. This could have been a fluke peculiar to Portland, but hey, you never know.
Come to think of it, with family all over the place, maybe it's time to change the rules.
Why do we have to take turns visiting each other? Why don't we meet in some nice, neutral place - like the Cayman Islands? Kaui? Barbados?
Now if only we could get the relatives to agree.
Can you just hear it?
But I have six airline tickets to buy and you only have four and that's fine with your fancy executive salary and, the clincher, mom and dad must be paying for your trip because they always liked you best!
Talk to you later, Rudy.
Deb
[ Features Index ]